Every week, we'll be sitting down with one of our gallery artists to discuss their work, process, inspiration, and stories. This week we're speaking with Elise Morris.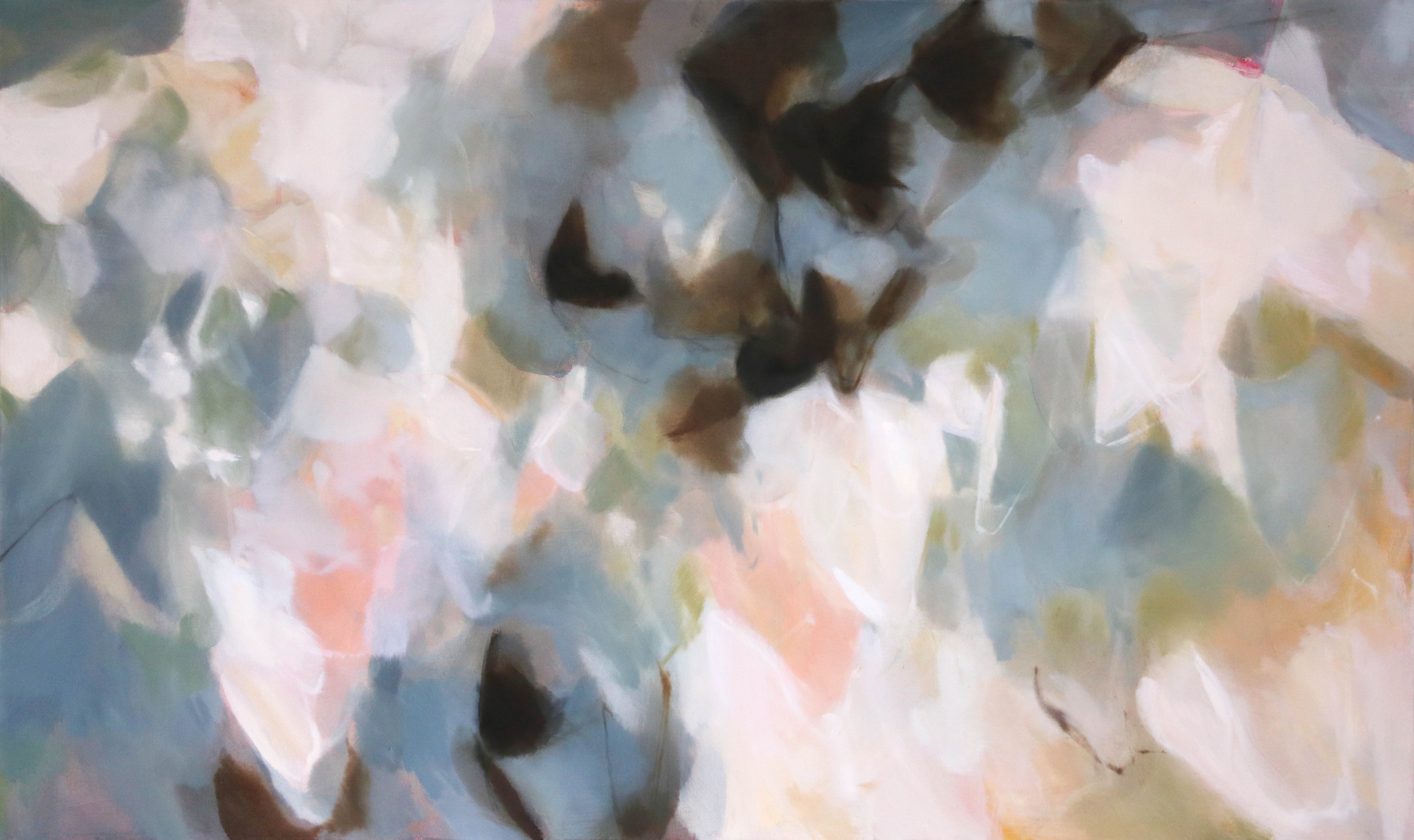 "Reflective State 1"
Elise Morris sees the infinite in the miniscule. Inspired by the subtle details of nature - light, pattern, and color - she creates richly layered works celebrating the tiny landscapes within overlooked spaces. Her paintings may be reminiscent of the space between branches, the curling of a leaf, or a rippled reflection in a pond. By turning her attention towards these small moments, she simultaneously opens up her awareness of the expansiveness of nature. The intricate workings she captures are representative of the vast complexity of the organic network they are a part of. They are soft and ethereal, yet lively and bright, much like their source of inspiration. Morris spoke with us from her studio in California about her process, the connection between creativity and parenthood, and building a community of artists.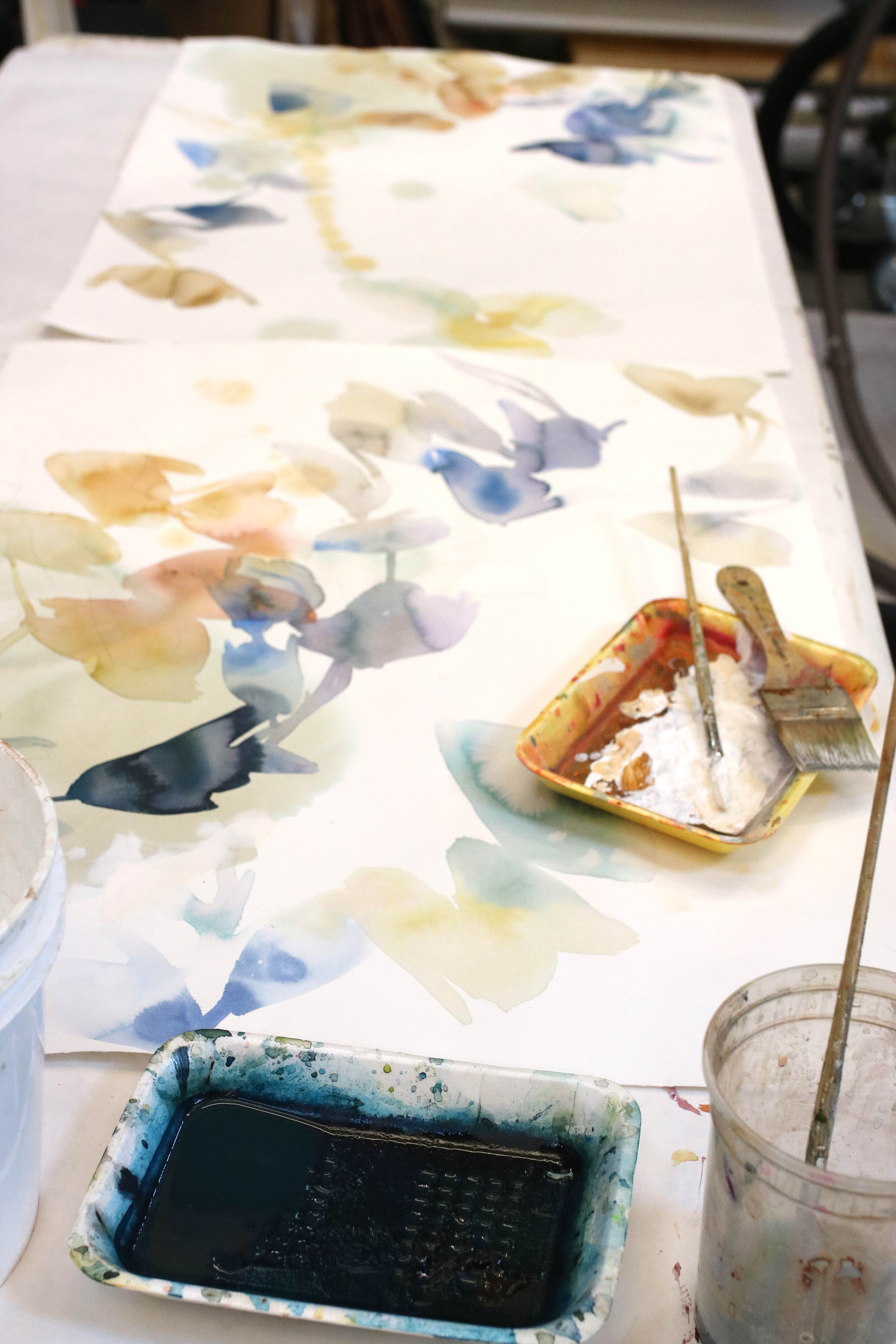 Photo courtesy of the artist
What are your earliest memories related to art? When and how did you start becoming an artist yourself?
I was always drawing and making things as a child - my mom actually had a craft business so there were materials available to me all the time. Our garage had boxes of ribbons sorted by color, and scraps of fabric and paper. I had my own sewing machine and loved to make everything under the sun. I especially loved to write stories and draw. Since I loved to draw so much, my mom took me to a painting class when I was maybe 7 or 8. I learned how to mix paint colors and even started using oil paint! My son is now 8 and I can hardly imagine setting him up with oil paint, but I do have an entire shelf of art materials that he can use whenever he wants. I believe that exposure to different materials can lead to being comfortable enough with them to start using them in your own way. I have since unlearned all the rules about painting in order to create my work.
Were you always drawn to doing the type of work you do now, or was there an evolution towards finding your current voice?
My work has definitely evolved over time. I am always exploring space and light within the work. For a time I was creating very geometric paintings with hard lines and warm colors. When I was in graduate school, I became more interested in my creative process, and learned to step back a bit and approach the work differently. As a result I worked with more organic shapes and my forms began to reference nature, and more abstract ideas.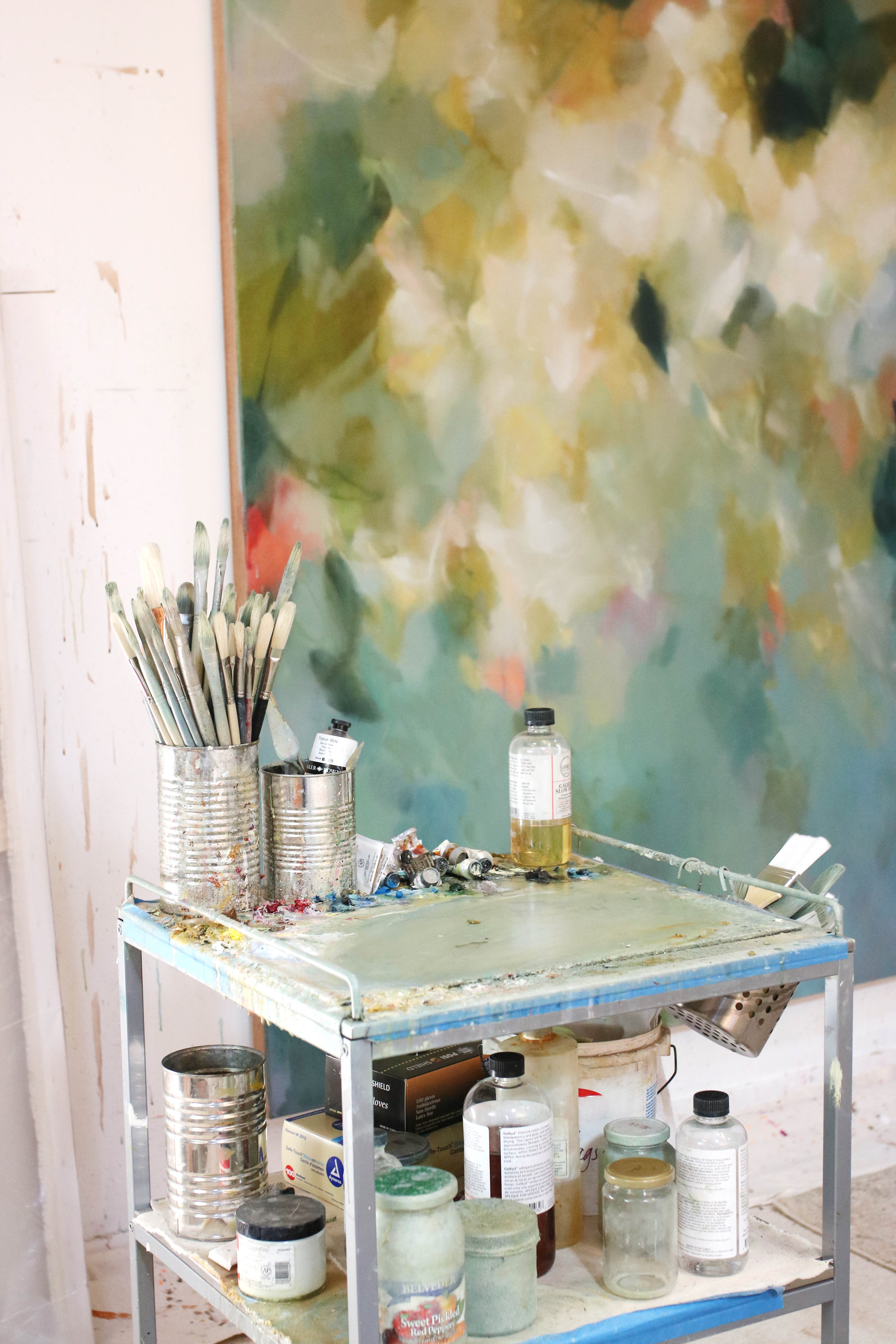 Photo courtesy of the artist
What are your inspirations and influences?
I'm influenced by my immediate surroundings - light and shadows, small details that I notice on a daily basis. Color is also incredibly important to me. When I see something that catches my eye, I first notice the colors and sense of light. It's often a combination of colors that makes something stand out. My studio faces our yard, where every year for my birthday my husband plants something interesting for me. I have lilacs, a redbud, fruit trees, jasmine, and a meadow that we recently planted with drought tolerant flowers… It will eventually be all the inspiration I need!
What is your process like? For your works on paper, what draws you to leaving evidence of the original line drawings in the final piece?
I start every piece with a line drawing based on something I have seen in nature. I take a lot of photographs and keep the prints in a binder for reference. For paintings on canvas, I block in washes with watered down acrylics along the edges of the drawing. I fill the canvas with color as quickly as possible to obliterate the pristine surface. I then begin painting some overlapping layers with acrylic washes and gestural marks. After I have created a basic under-painting, I switch to oils, and work intuitively with color and shape. I don't do sketches or plan out my paintings. I paint what comes.
When I work on paper, I also start with an initial drawing and leave it exposed. I love how that delicate pencil line starts to carry weight when left alone. It is the shape of something in space, and references a moment of observation. I then work with acrylics and inks, puddling paint and letting it dry. The results are often surprising and I love to witness the work emerge from the mess.
Photo courtesy of the artist
You've talked about the importance of white space in your pieces, and I'm curious about what's behind the decision behind when you choose to fill the space more. Is it just on a case-by-case basis?
When I work on paper, I really see the blank paper as a space, not a surface. In that way, I am able to leave white space and create work that is more spacious. I am working hard trying to approach canvases in this same way. I actually think every time that I will leave more white space, more "emptiness" - but I tend to fill up the paintings with color. I have to work hard to prevent myself from overworking each piece. This usually means many layers, and wiping most of what I paint away. I start a painting with a white space and want to create that sense of open space again.
You've recently had a baby! Have you found that's had an effect on your work, process, or point of view?
Having a baby has slowed everything down for me again. My days are all about this little being, and his relationship to me. We go on long daily walks to get him to nap. Time is really not my own. I am remembering to be more efficient. I need to pick up my paintbrush when I first walk into the studio, and to keep the studio stocked with materials. There should be no reason for me not to paint once I have even a small block of time to do so.
I also find parenthood to be inspiring and creative - it feeds my creative process in many ways. I am more observant of my surroundings. When my older son was a toddler, I remember how I started to see the world through his eyes - every little detail of our walks became important and new again. Spending time with my children helps me focus on what is truly important in the moment.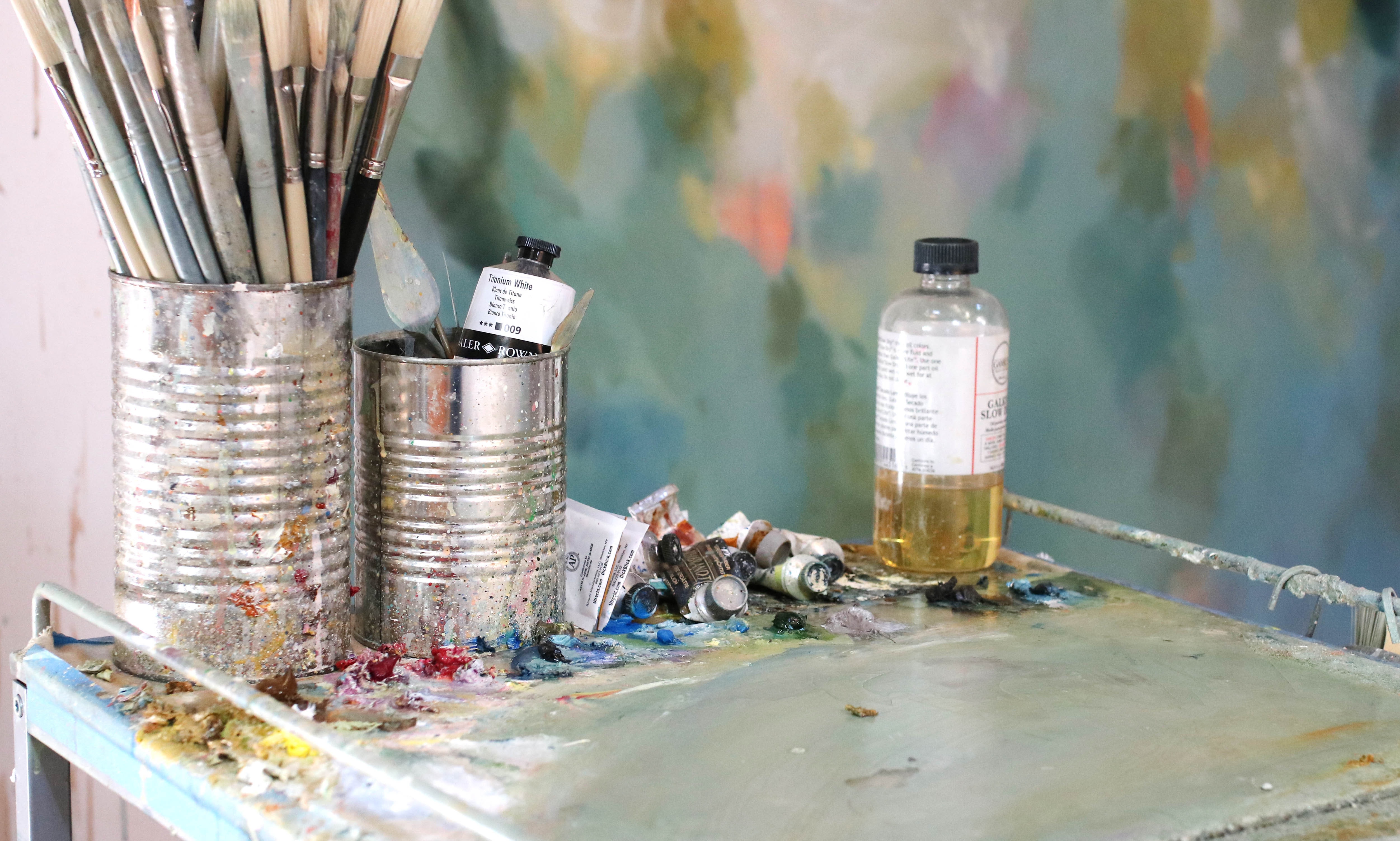 Photo courtesy of the artist
What inspired you to start your Studio Work blog? Does that project affect you as an artist at all?
I used to manage a large studio building, with over 30 artists. When I moved my studio to my home, I missed the community and wanted to see what other artists were doing. I looked for some kind of resource online, and came up with nothing. So I decided to create it myself.
I always come home from a studio visit more inspired and excited to paint. I'm honored that so many artists open their studios to me. I love promoting other artists and letting them tell a part of their story. It's thrilling to make connections with so many talented and hardworking people - the project actually feels self-serving sometimes since I get so much out of it. The blog is gaining traction and has become a wonderful resource for artists to find each other and make connections.
Where do you see your work going from here?
I have committed to work larger, and also to limit my palette and work in black and white. Such a challenge - I am really obsessed with color. I'm always excited to get back to work in the studio, and even more so with a new challenge in mind.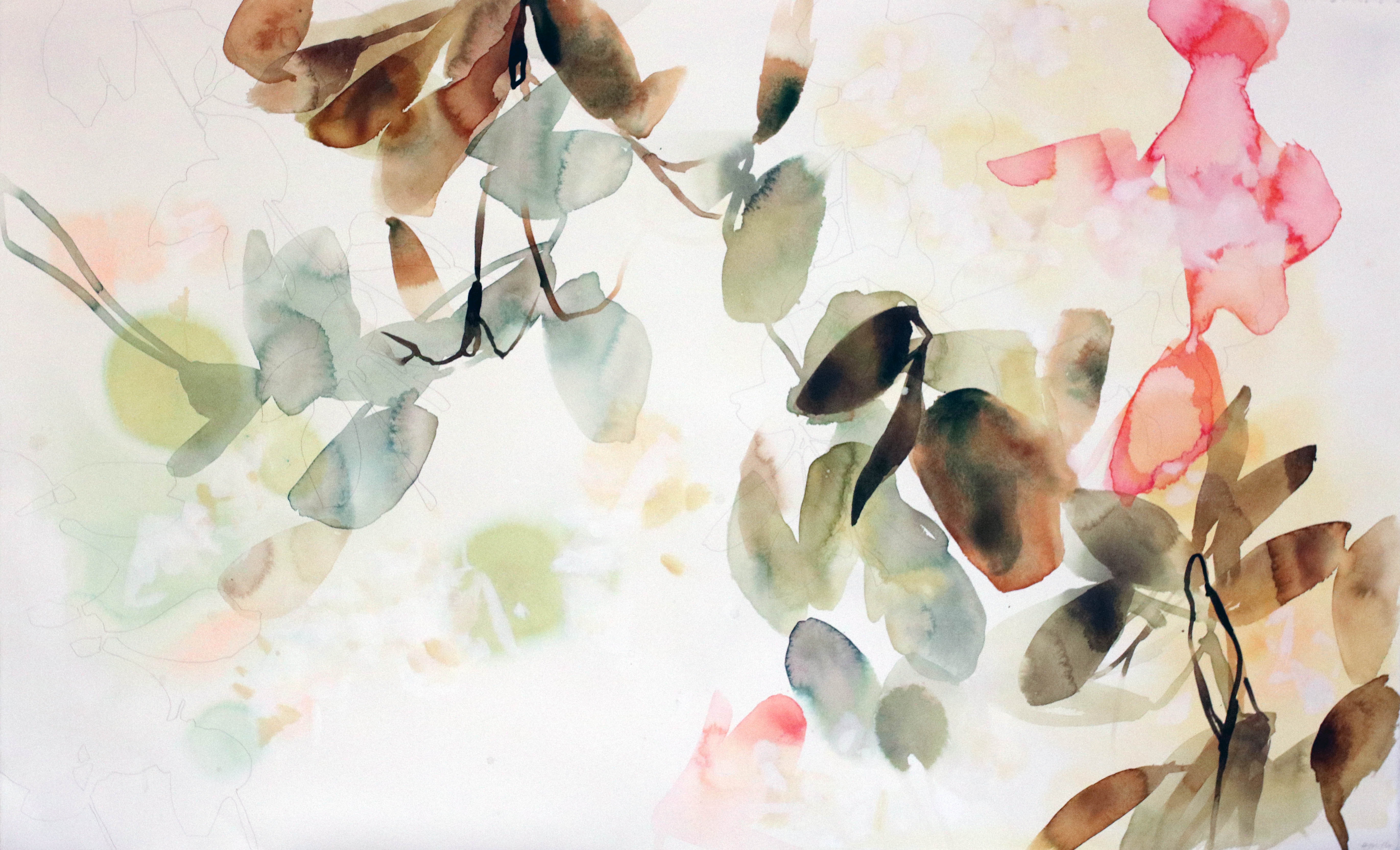 "Grace Lifts 1"
Explore more of Elise Morris' work here.