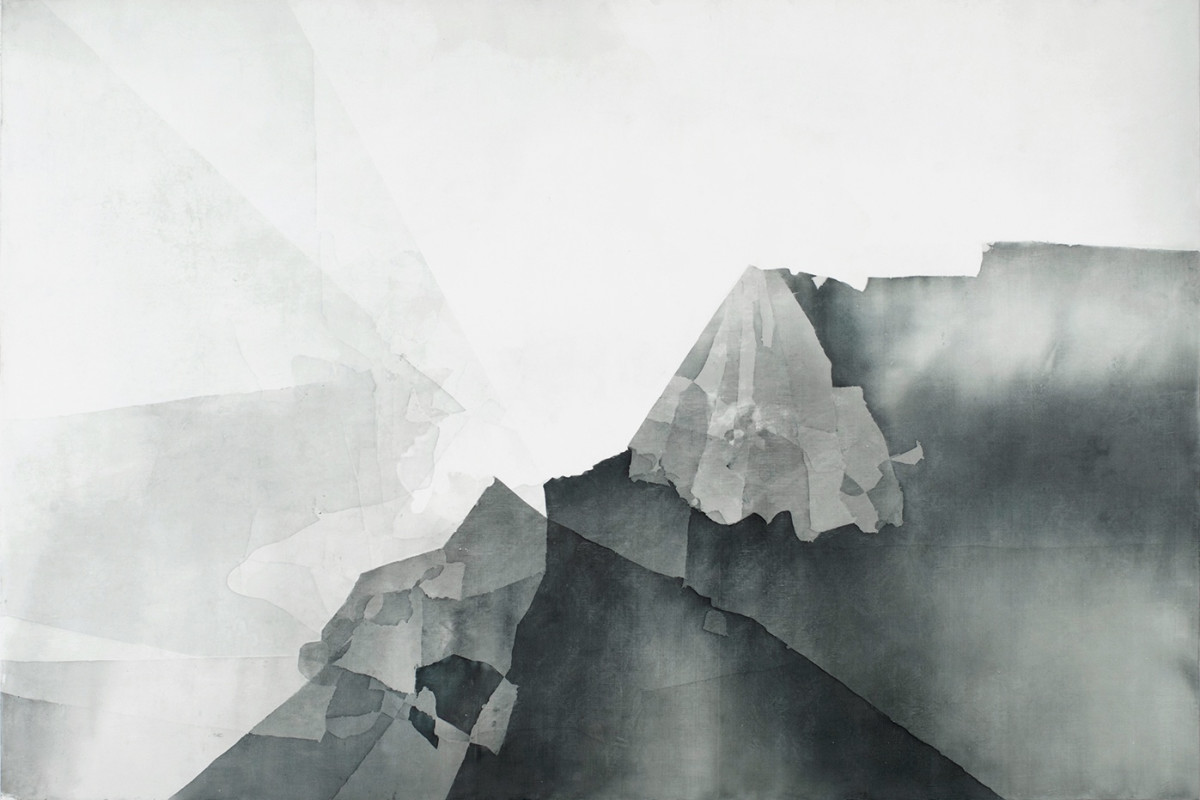 Every week, we'll be sitting down with one of our gallery artists to discuss their work, process, inspiration, and stories. This week we're speaking with Eric Blum.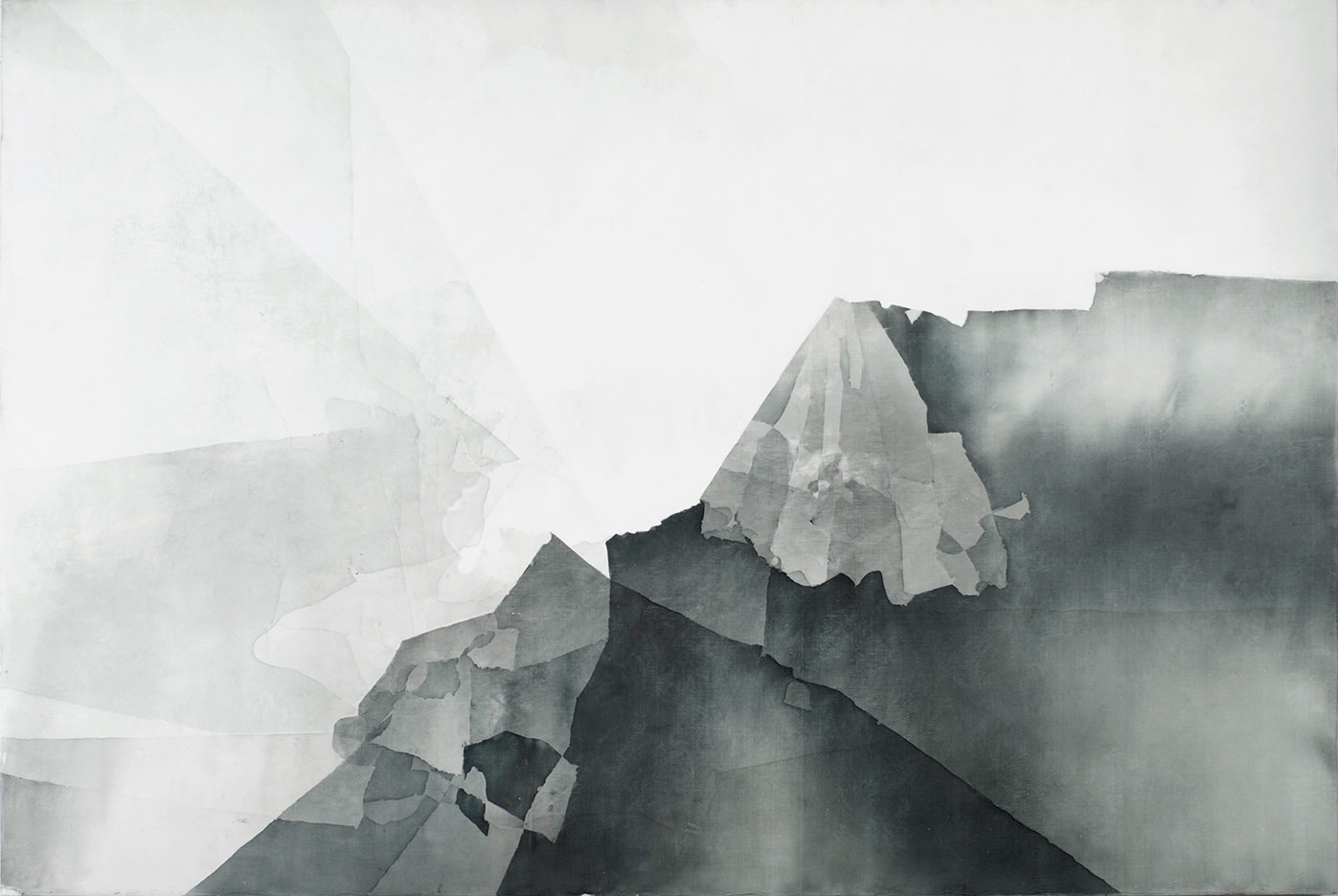 "Untitled No. 742"
Eric Blum's layered arrangements of ink-washed, wax-infused silk are rooted in modern painting techniques yet activated by the experimental manipulation of his media. While initially drawing inspiration from the world around him, Blum dives into his work blindly, putting his materials through a process of layering, rotating, covering, and uncovering, until he settles the elements into a visual anagram, no longer resembling his own preconception. The ambiguity of Blum's references and the elusiveness of his narrative is beguiling. Its parts don't always go together and when viewed anew it becomes something other than itself; potentially more desirable, poetic or preposterous. He is drawn to unexpected juxtapositions and awkward harmonies with menacing undercurrents that don't make a nuisance of themselves. We headed to his studio as he prepares for his forthcoming exhibit, "New Paintings" to discuss his work.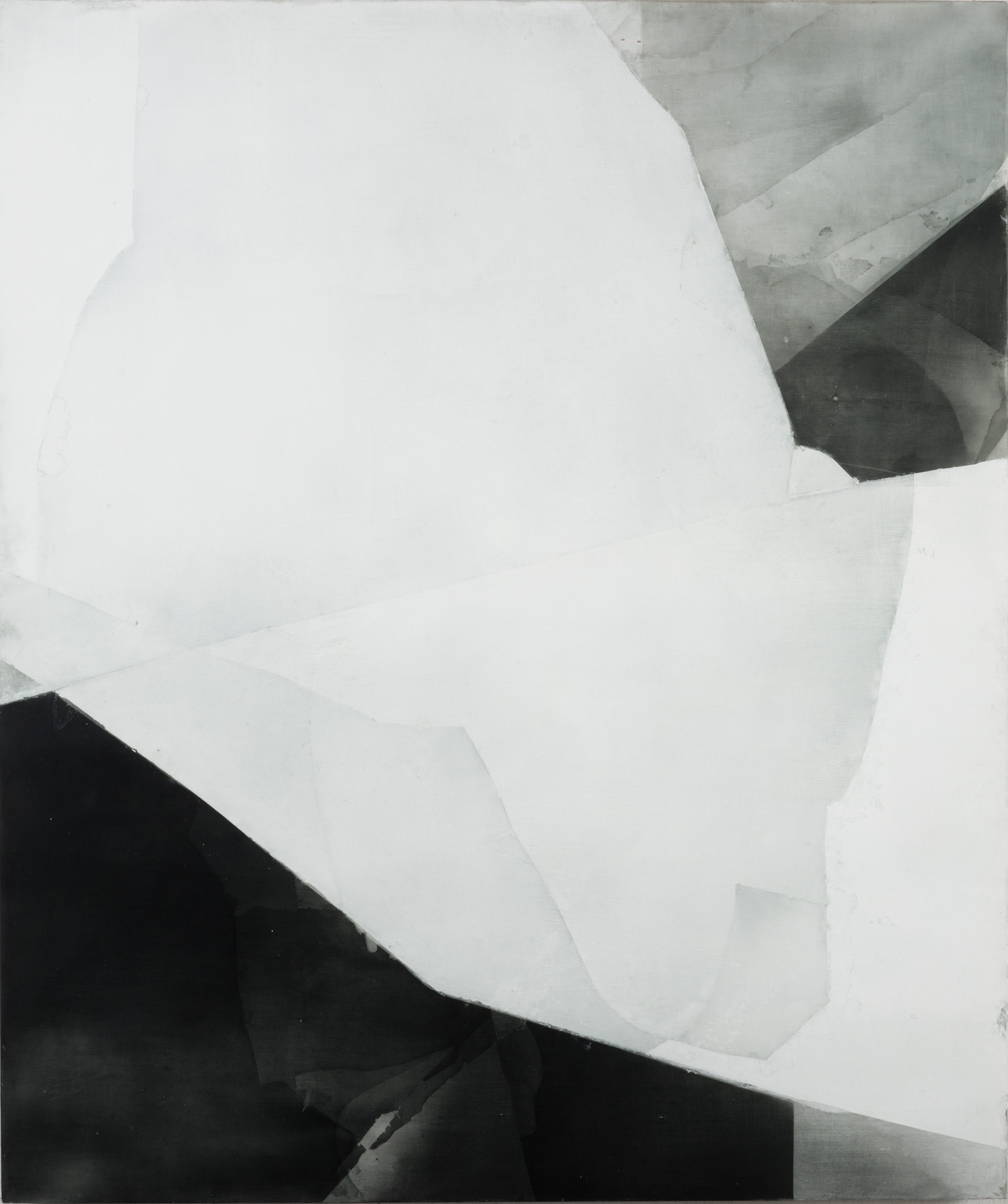 "Untitled No. 758"
What are your earliest memories relating to art?
While the memory itself is not related to art, my earliest memory is probably the trigger that led to making art to begin with. It sounds crazy, but I remember my mother holding me up to the window in the hospital a couple days after giving birth. She was on the third floor of the hospital in Fresno, CA and my first memory is of my sister and my grandma in the parking lot waving to me. Then, later that year, I was in the hospital for respiratory issues and I was in an oxygen tent. I was still less than a year old, and I remember the other infant to the left of me in another oxygen tent. I remember relating to this other little being. We had our own little thing going. I remember it distinctly. So, those early memories are really the thing that made me want to do something to try and capture the feeling of that, because it was so haunting. That's the kind of thing that haunts you your own entire life. I didn't know at the time how to comprehend it, and so when I started pursuing art seriously I was thinking about how to capture those feelings. The first wax works I did - I used to use a lot more wax - were really an attempt to describe that memory of the oxygen tent. It's this impermeable force around you, and your own breath is contained inside something, and there's this transparency that isn't quite accessible.
Were you always working with these materials? When did you start making art?
I was sixteen. I didn't really have any pressure from my parents to be anything in particular, and they kind of left me to my own devices, so I found my way to art on my own. I always enjoyed making things in my room, playing around with different materials and projects. Then I started taking art classes in junior high. By the time I was in high school that was all I did. I explored all different art forms, from painting to photography to filmmaking to dance to theater to writing. Plus, I'm a musician. I started drumming when I was nine. I just wanted to explore every single avenue of the arts. Later, I even tried my hand at perfume making. Initially, I wanted to make movies, but it was too collaborative. Then, I had a career as a photographer doing fashion shoots, album covers, portraits, still life, whatever was available.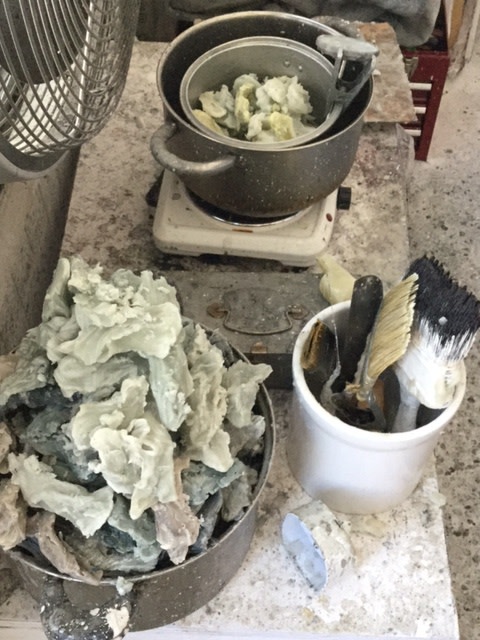 When I started focusing on painting, I experimented with all different kinds of materials to try and capture that memory and the feeling of it. At the beginning, I didn't know what I was doing. I just knew what I wanted it to look like in the end but I didn't know how to get there. I just kept experimenting with different materials and techniques. When I first thought about wax I didn't know what I was going to do with it, but I went out and bought a bunch of it and it sat in my studio for six months, completely untouched. Eventually, I started playing around and applying it and melting it down. This was about fifteen years ago. I never pigmented my wax, which is the traditional encaustic technique. I always use it in the transparent way. I used to really pour it on but now I just barely use it. You can see it in the fiber of the silk, but that's about it. It's a nice texture. I hate touching canvas, so I like the feeling of the surface when it's this combination of wax and silk. The silk is really my canvas. I think of it as working with layers of transparent canvas.
Could you talk a little bit about your process?
I start with drawings. Most of them are based on domestic scenes, people, interiors, very rarely a landscape. I'll use that drawing as a focal point to start a painting and keep it as a guideline. I'll break it up, I'll fracture it, I'll layer it multiple times. There's no real rule to that process, but I do have to have this finite amount of elements to work with. I don't want to be all over the place. That initial drawing keeps me in one direction and allows me to finish a work, or else I'd just be all over the place trying different things all the time.
I'm just trying to get somewhere that's in the back of my head that I'll never be able to reach. But that's what keeps me going from body of work to body of work. It's an undefined goal, but that's the direction I'm working in.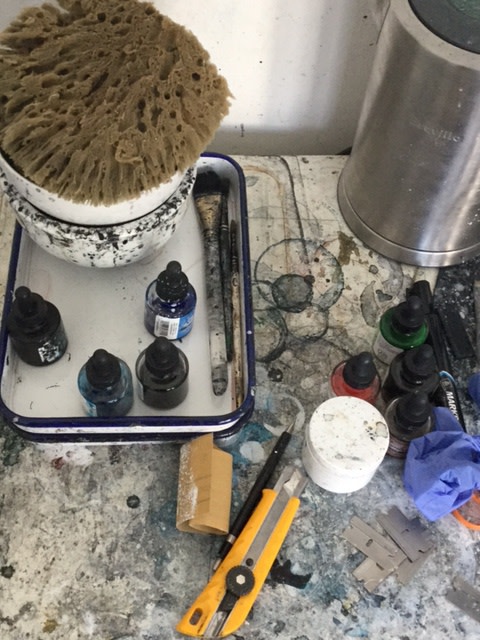 Is there anything that draws you in particular to the muted palette that you work with?
I like color, I do. It's just in the end I always hold back. I don't want to have to think about color, so I'll just use the same colors over and over again. It's like wearing a uniform. You don't want to have to think about it. You have to go, so you throw it on and walk out the door. It makes me just get started, and to focus on the other elements of the work. One day I'll use color. Maybe the next show.
What would you say that the pieces that are in this show represent about where you are now as an artist?
If I were to compare it to the last show I did at the gallery, it's more or less the same kind of imagery, but I'm taking a lot away. There are areas that I cut out as I work to open it all up a little bit and put in some more space. That happens as I'm layering the silk. I'll stretch one piece over the panel and work with it, then layer another piece, and throughout each layer I'll cut out those areas before layering again.
Quite often I'll peel the whole painting off the panel and I'll store them in these bags, all folded up like bedsheets. Then every few months I'll open up one of these bags or boxes and I'll pull one out that I'll want to remount or use as a departure point for a new painting.
It's a whole different perspective of looking at painting, seeing those bags like that.

It's really fun, and it does help if you have a different perspective. I photograph them too, every step of the way. It's all different ways of seeing things as they progress.
"Untitled No. 731"
Explore more of Eric Blum's work here.