Every week, we'll be sitting down with one of our gallery artists to discuss their work, process, inspiration, and stories. This week we're speaking with Mary Didoardo.
Mary Didoardo's visceral, gestural abstractions are brought to life through swirling lines, textures, and colors. The depth of her panels evoke heightened emotions and leads to a psychological atmosphere. After years of working in both sculpture and figurative painting, Didoardo's current body of work is a meeting of the two states of mind, the intuitive manipulation of abstract space grounded in line. We visited her studio in Long Island City as she prepares for her forthcoming show, "Paintings," to discuss the elements she's pulled together from disparate areas of study, treating painting as sculpture, and learning to trust your work when it tells you it's finished.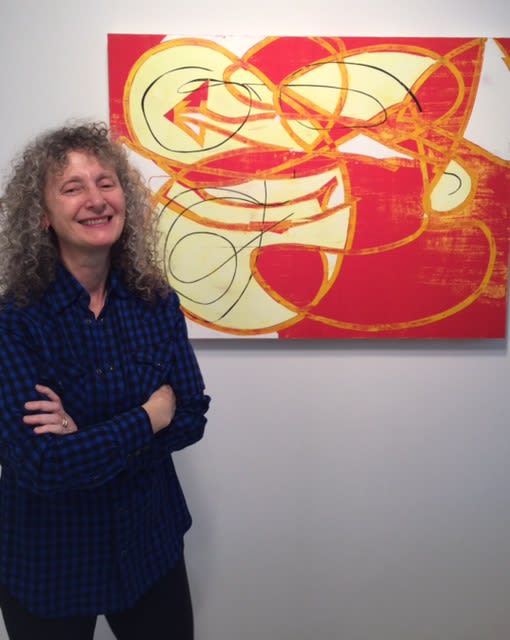 What are your earliest memories relating to art?
When I was younger, my sister was the artist in the family. She was very talented, and I followed in her footsteps but never aspired to become an artist myself. Then when the time came to go to college, my mother surprised me by suggesting I go to art school. I applied to Pratt, thinking I'd never get in, but I did. The first year was tough, but then by the second year, it was like color came into the world and my life really began. At first you're reluctant to identify yourself as an artist, thinking you haven't earned those stripes yet. But with tenacity and commitment and time I found myself an artist.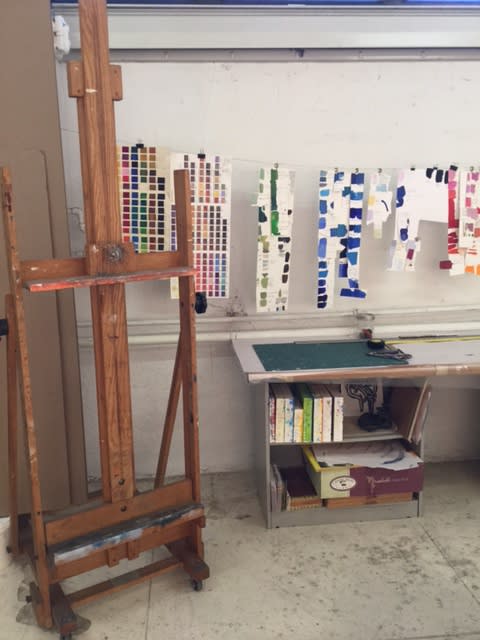 You've had an evolution in your work towards the abstraction that you're doing now. You used to do more figurative work, and you've also worked in sculpture. What were the influences along the way that brought you to where you are now?
Looking back, I can see that all of my work has been leading to this, but it didn't make sense at the time. In art school I thought I was going to be a sculptor. I had an instructor that taught me process, which was new to me. In this case it was making these very impermanent molds with masking tape and sheet metal and plaster and wires. You'd have a shape you'd start with and then you'd add to that and keep turning the piece so it never quite had its place of gravity until it finally decided it was finished. This process freed me up to not worry about what I was making, and it was very exciting.
But at the same time I was doing a lot of drawing at Pratt. That's part of their Bauhaus curriculum: drawing, painting, sculpture, and academics. For four years they had me drawing from life and figure, so I was doing this very fluid making of abstract objects while also painting from life and looking and seeing. I used to be a more figurative painter, but I found it very limiting to only have this flat plane in front of you when form was your only option to fill it with.
Throughout my career I've been going back and forth between sculpture and painting and now I've ended up here where they're both meeting in one place. I think of the paintings as sculptural objects; they have a sculptural presence. I treat them as very physical objects. I'll bring them from off the wall and put them on the table to work them and then put them back on the wall to study them before working them again. If you look on the sides of the panels you can sometimes see how they're made. You can see there are colors that don't end up showing on the surface. So it goes back to the sculpture process of building it up and transforming it.
Could you walk us through your process when you start on a new painting?
I'll start with a cradled wood panel. I pick a color that excites me at the moment and I'll put it all over the surface. As it's drying, I'll read the colors and start to visualize if another color should come next to get a scrim of colors, or if it's ready as is. Once I'm satisfied with that base I put down the masking material and stand over it at the table and draw a very spontaneous line. Since it's on the masking material I can take it off or I can stay with it, but in many cases I'll surprisingly use the first or second line. I don't really have to draw it over and over again. Then I cut the line and put paint over that to go into the line and then I pull the masking material off, giving me my first line and my first color. From there I'll build shapes and line in layers, or sometimes whole coats of another color, until I feel they're complete.
They've been happening faster, after doing these for about three or four years now. But I don't trust them when they come that fast. I have people around me that tell me to hold it and look at them for a while before doubting them and continuing to work on them, and that makes me very nervous. But I'm getting to that place where I can listen to other people's voices and then also judge them myself and be able to balance the two. I have a lighter touch, now, and that just comes from experience.
How did line become such an important element in your work?
For several years after school my body of work was these charcoal drawings, which I loved to do. Then in my earlier paintings I wanted to involve drawing, so I was dealing with figurative elements there that were transcribed in line. As I started working with abstraction I still wanted to have this immediate line where I would cut a stencil and then stencil the line onto the painting. I think that was preparing for this very free line that I'm working with now. So I see a continuity of line through all my work throughout the years. Like I said earlier, looking backwards now it's all starting to make more sense.
You tend to continue working on what you've called "failed paintings," rather than starting fresh. How does that fit into your process, and how do you think it contributes to the final piece?
What was leading up to this was I used to start with these big panels and, instead of building them up, I kept finding these smaller areas that I liked and crop the whole thing down until they were these much smaller paintings. But now I'll just work at the layers. There will be a point in the painting where I'll think it was going one place and I realize that it's clearly not going to happen. So instead of getting rid of it I've got all this rich resource underneath, at least that's how I see it. I might do something drastic like a whole other coat of paint over it with just a line remaining and that completely turns the page and gives me a whole new perspective on it. The things that come up from the old painting, even if it's the tiniest little specks, those tiny specks can be something that completes the painting and makes it what it is.
What are some of your influences and inspirations for this body of work?
Matisse was a huge influence on me for these. I taught art with kids in the public schools and one of the examples that you show them in collage or painting are the Matisse cut outs. As much as I loved working with them, I thought I was tired of them and never wanted to see them again, but there was a Matisse show at MoMA recently and they just knocked me out. They still thrill me. I think in terms of attitude my time has come where I can have the pleasure and joy that Matisse has in his work. My earlier paintings, my more figurative work, you can see that I was going through a period of angst, so it's nice to be here now.
What do you think the pieces in the show represent about the evolution of this series?

It's a happy culmination of my life's work. It's at its peak, if I dare say. I'm definitely in my comfort zone and I'm very excited about it. There are a lot of things I want to do but, really, all I'd like is just to be in my studio painting.
Explore more of Mary Didoardo's work here.
Learn more about her forthcoming exhibition, "Paintings," here. On view March 31st - May 7th, 2016