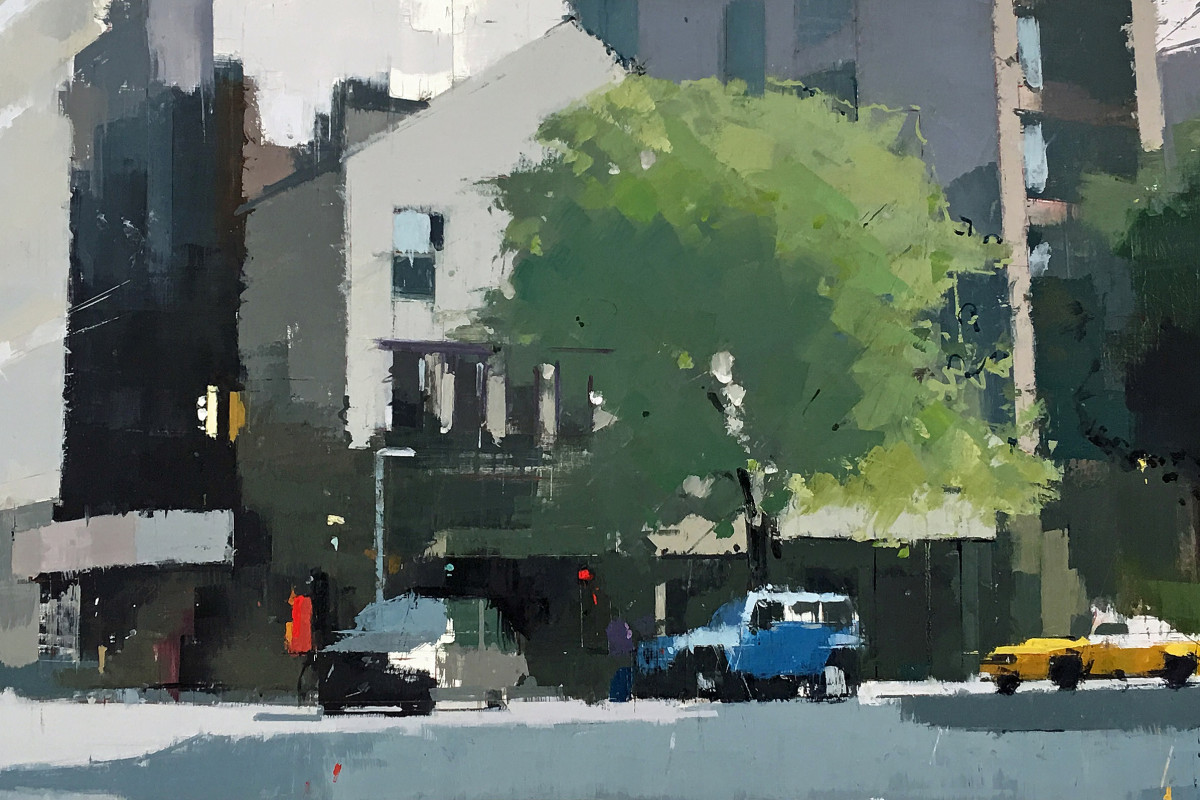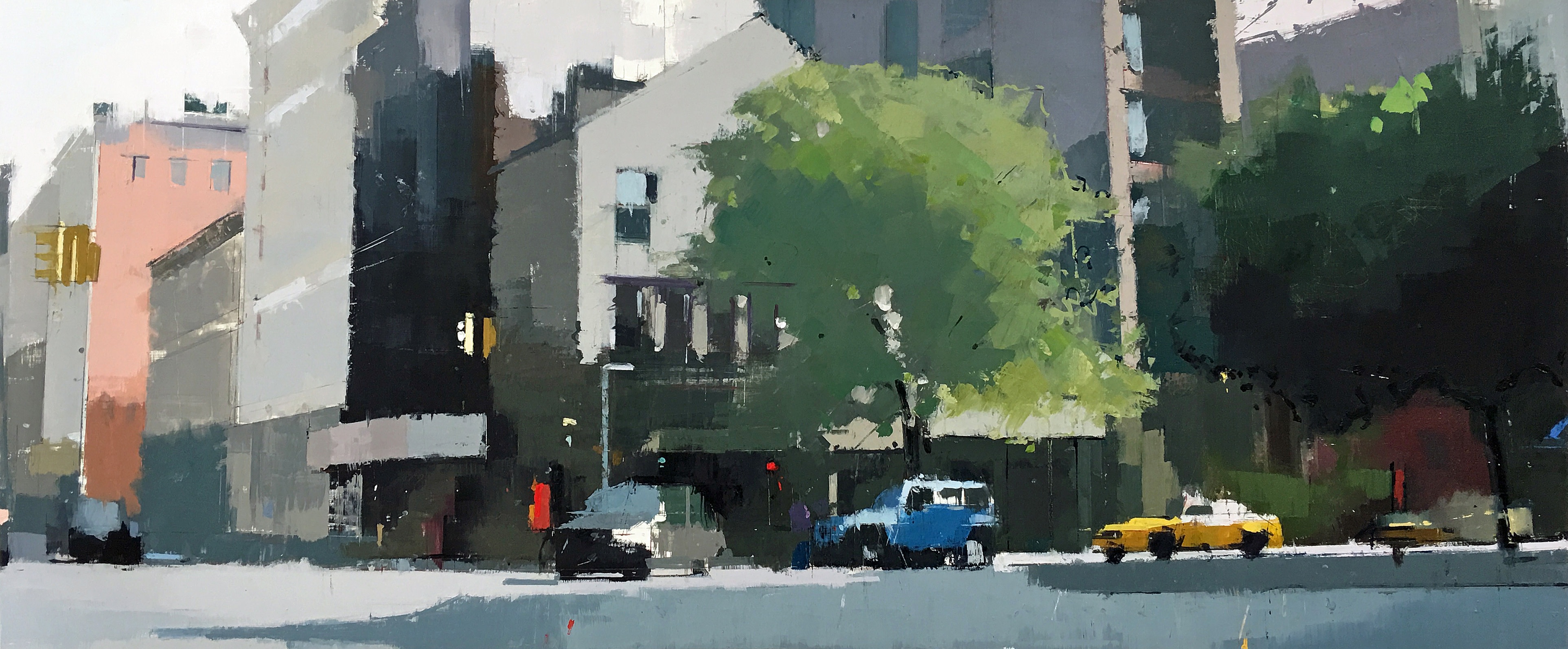 "Soho Morning"
Lisa Breslow's landscapes, cityscapes, and still lives are an exercise in contrasts. Both the natural world and architectural grit have a place in her work, highlighting the pull of New York City created by these opposing forces existing side-by-side. Breslow distills her depictions of nature down to its essence, creating atmospheric scenes activated by mood, energy, and light rather than a literal portrayal. The softness of her brushstrokes is grounded by the evident marks of her draftsmanship, amplifying the contrast between the serenity of the oasis and the driving force of the city surrounding it. We sat down with Breslow in her studio in Long Island City as she prepares for her forthcoming show, Recent Paintings, to discuss her process and perspective.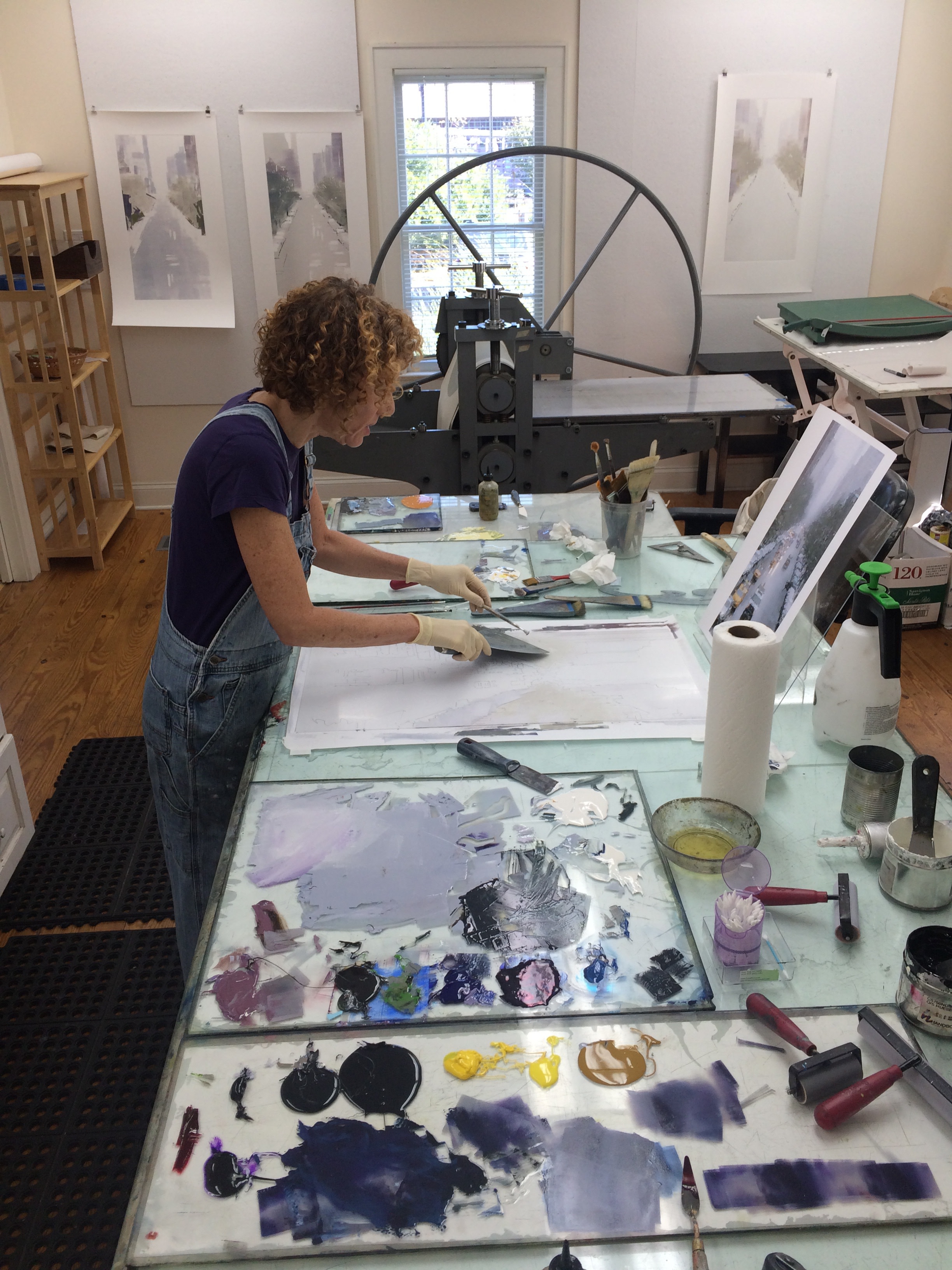 Lisa Breslow at the Center for Contemporary Printmaking, photo courtesy of the artist
What are your earliest memories relating to art?
I was encouraged to pursue my interest in art, and began drawing and painting at a young age. My father was a painter, primarily of portraits. The walls of our house were filled with artwork. We had a life-size plaster cast replica of Michelangelo's "Dawn" in our living room, which was an oddity in our suburban Long Island neighborhood. I was captivated by my surroundings, and remember drawing the statue as a child. Upstairs was an attic with a skylight, that was my father's studio. Walking up the stairs, I loved smelling the oil paint, and it felt like I was entering a sanctuary. I still experience this sensation when entering my own studio today.
Did you start out doing portraiture as well? What was the evolution like to what you're working on now, as a landscape and cityscape painter?
I drew and painted directly from the figure for many years, continuing through art school. In my early twenties I started to spend my summers at Fire Island. I fell in love with the landscape and began painting small-scaled plein air canvases. I was drawn to the naturally occurring division of sea, land, and sky, and focused on capturing their distinct qualities of atmosphere and light. Realizing that I had found my voice painting landscape, I started to explore and travel to other locales. I was only interested in places in which I felt a powerful connection to and experience of nature. In my late twenties, I saw a George Inness exhibition at the Metropolitan Museum which strongly impacted on my work. I became immersed in Tonalist painting for a period of time. I was already using a muted palette and striving to find a balance between abstraction and representation by simplifying and blurring forms. I was spending a lot of time building up the surfaces of these paintings and began working exclusively in my studio.
At one point I was invited to participate in a New York City themed group exhibition. I had never painted a cityscape before, but decided that Central Park would be a way for me to combine architectural elements with nature. It was an exhilarating experience, and one that I could not have imagined. Subsequently, I ventured into painting street scenes, with their more complex compositions and structures. I was blown away by the Matisse/Diebenkorn exhibit in Baltimore this year- two very influential artists for me, especially since color and geometry have become more present in my work.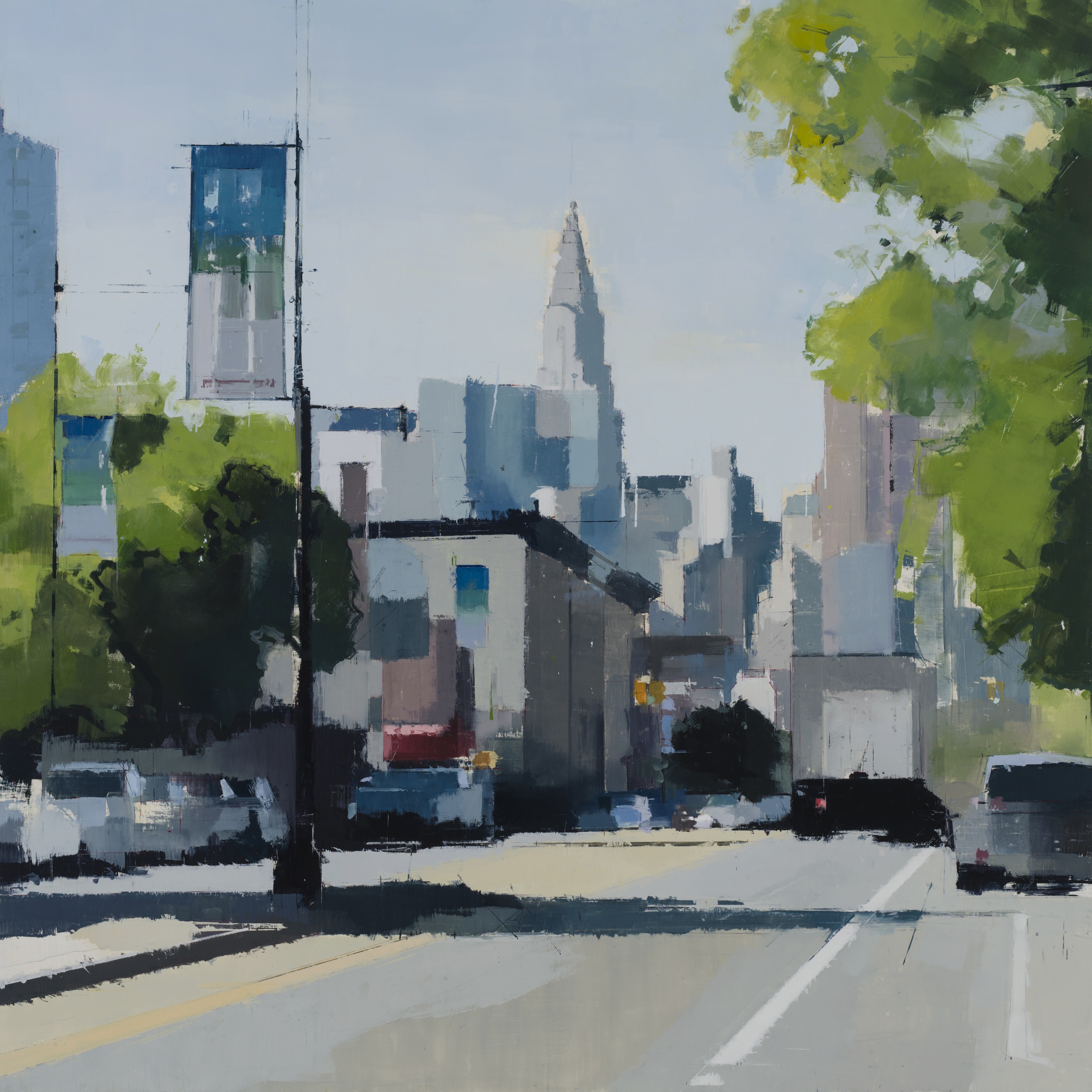 "Greens and Blues"
Is there something that you can put your finger on that draws you to working with a scene in particular?
I like to walk around and explore the city with my camera. I tend to gravitate toward scenes that are quieter and more meditative. It's always the lighting that draws me in initially, with its interplay of colors and forms that evokes a particular feeling or mood. When I see it, I know immediately that this is something I would want to paint.
One of the subjects that you've turned to again and again is Central Park, and that's always interested me. Of all places in New York, I think of Central Park as the one place you can count on being the same, as opposed to street scenes that are constantly evolving and always have something new to inspire you. What is it about the park that intrigues you as a subject?
You make a good point. Sometimes the ever changing city streets can be disconcerting and yes, there is a steadiness in Central Park. I keep revisiting the park because it's one of the few places in which I can feel close to nature and get out of the hub without leaving town. I never seem to tire of Central Park as a subject. I am always re-discovering and finding new vantage points. It is the perfect place to experience all of the seasons at different times of day and in varying weather conditions. I am obsessed with the reflections of buildings and trees in the lakes and ponds.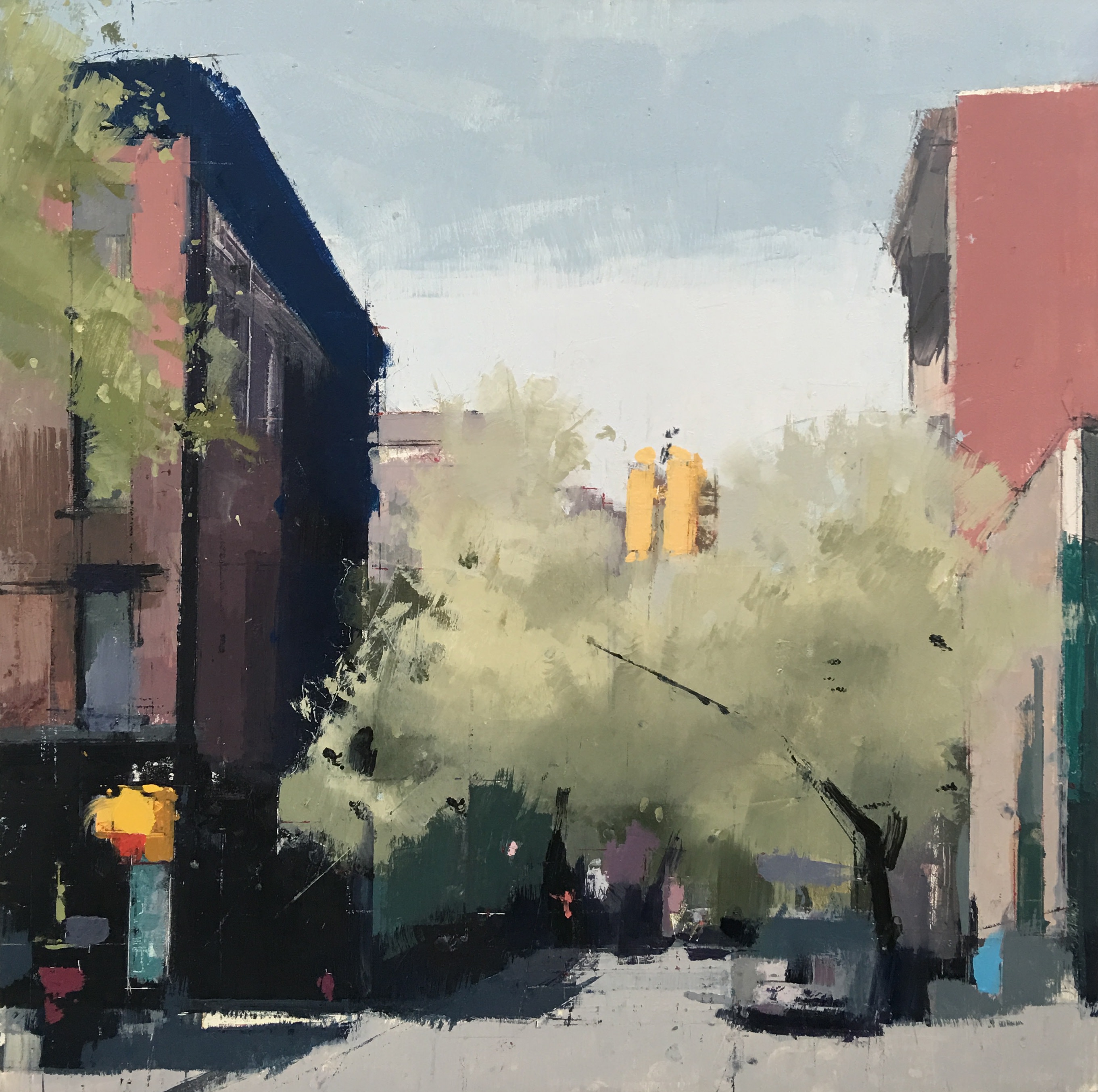 "Spring Green"
What's your process like?
My photographic studies and sketches are starting points. I have a good idea of how my composition will be structured, which I sketch out on panel with pencil. Using larger sized brushes and palette knives allows me to keep the painting loose, as I lay in blocks of color. Because I am constantly striving to simplify and abstract, my process involves a lot of editing and paring down of unnecessary detail. Often, I turn the panel to keep things fresh and less confined. I can spend a lot of time building up the paint surface until I know the painting is finished. It's constantly about finding a balance between representation and abstraction. It's an intuitive and exciting process.
I also want to talk a little bit about your monotypes as well. What do you enjoy about working with monotypes that you can't really explore with painting?
Making monotypes creates a great balance to my painting practice. The process has taught me more about the beauty of spontaneity, and the confidence that results from not re-working. It's a perfect medium to explore a subject in a direct and immediate way. It's liberating.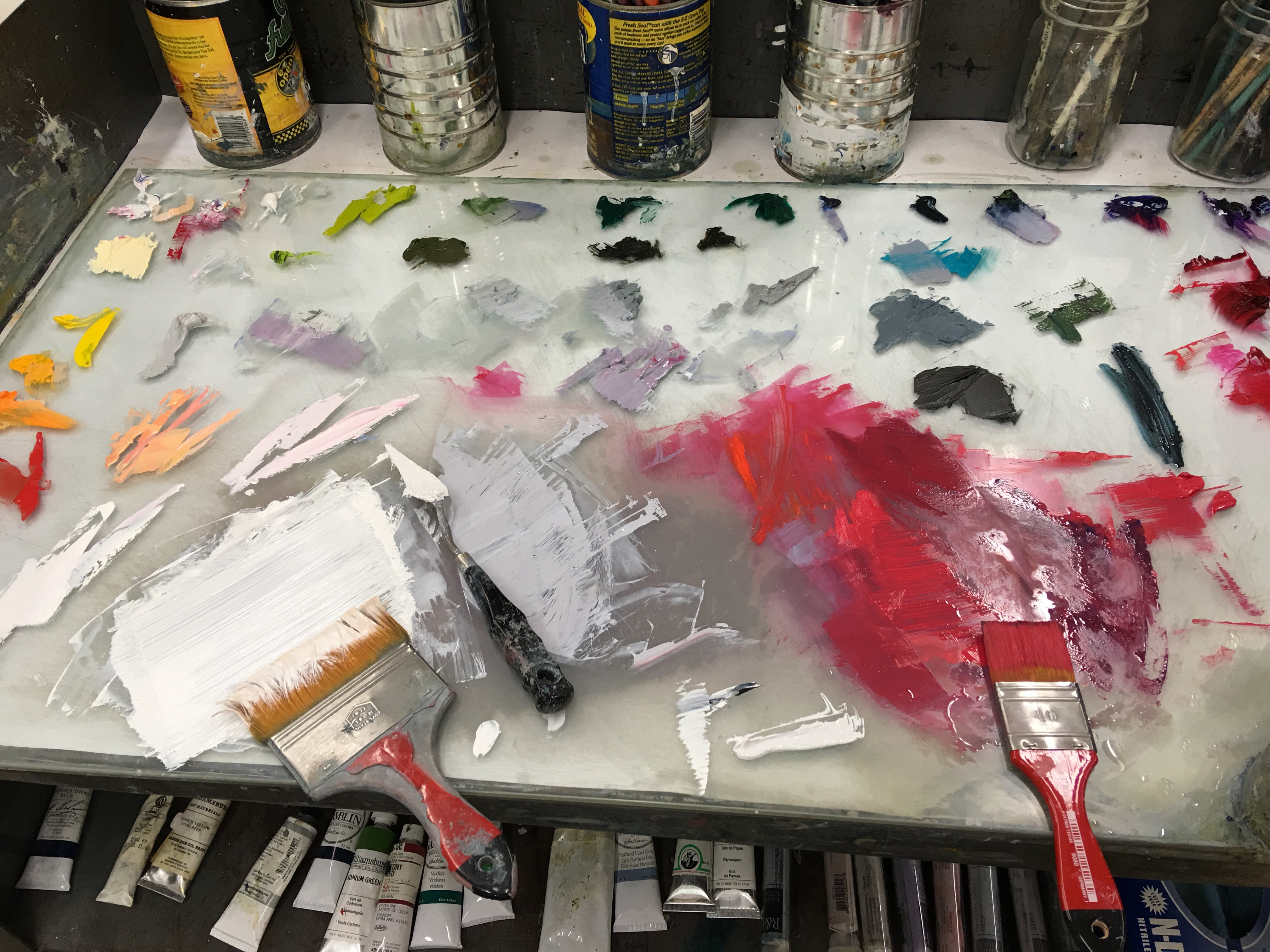 Photo courtesy of the artist
What do you think the pieces that will be in your forthcoming show represent about where you currently are in your path as an artist?
I feel more confident in my process, and I'm willing to take more risks. I can see that my paint handling and brushwork has loosened up, and that the paintings have become more abstract in general. There are deeper areas of shadow and contrast, and I've been playing more with saturated color, and exploring how these brighter colors pop out in relationship to more muted hues. The work has evolved in a fluid way for me as I strive to express my experience in the city.
Explore more of Lisa Breslow's work here.
Recent Paintings will be on view October 19th - November 25th.