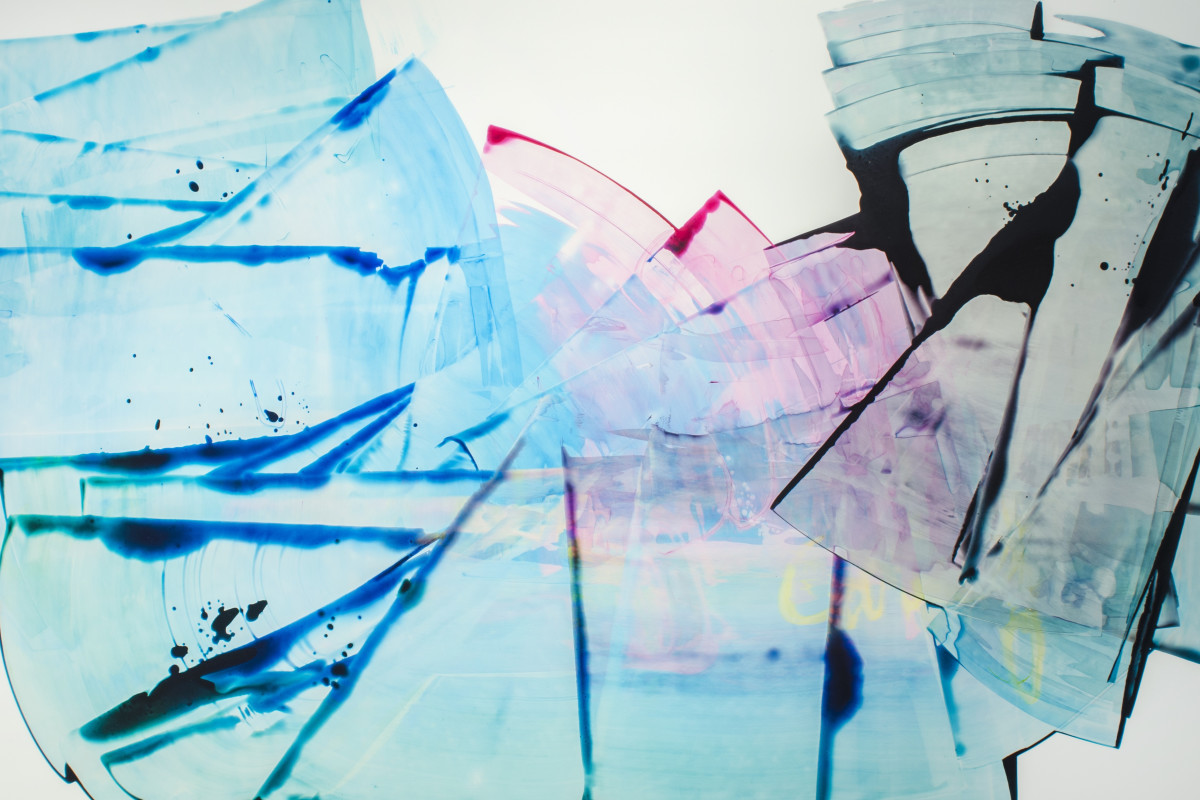 Every week, we'll be sitting down with one of our gallery artists to discuss their work, process, inspiration, and stories. This week we're speaking with Sarah Irvin.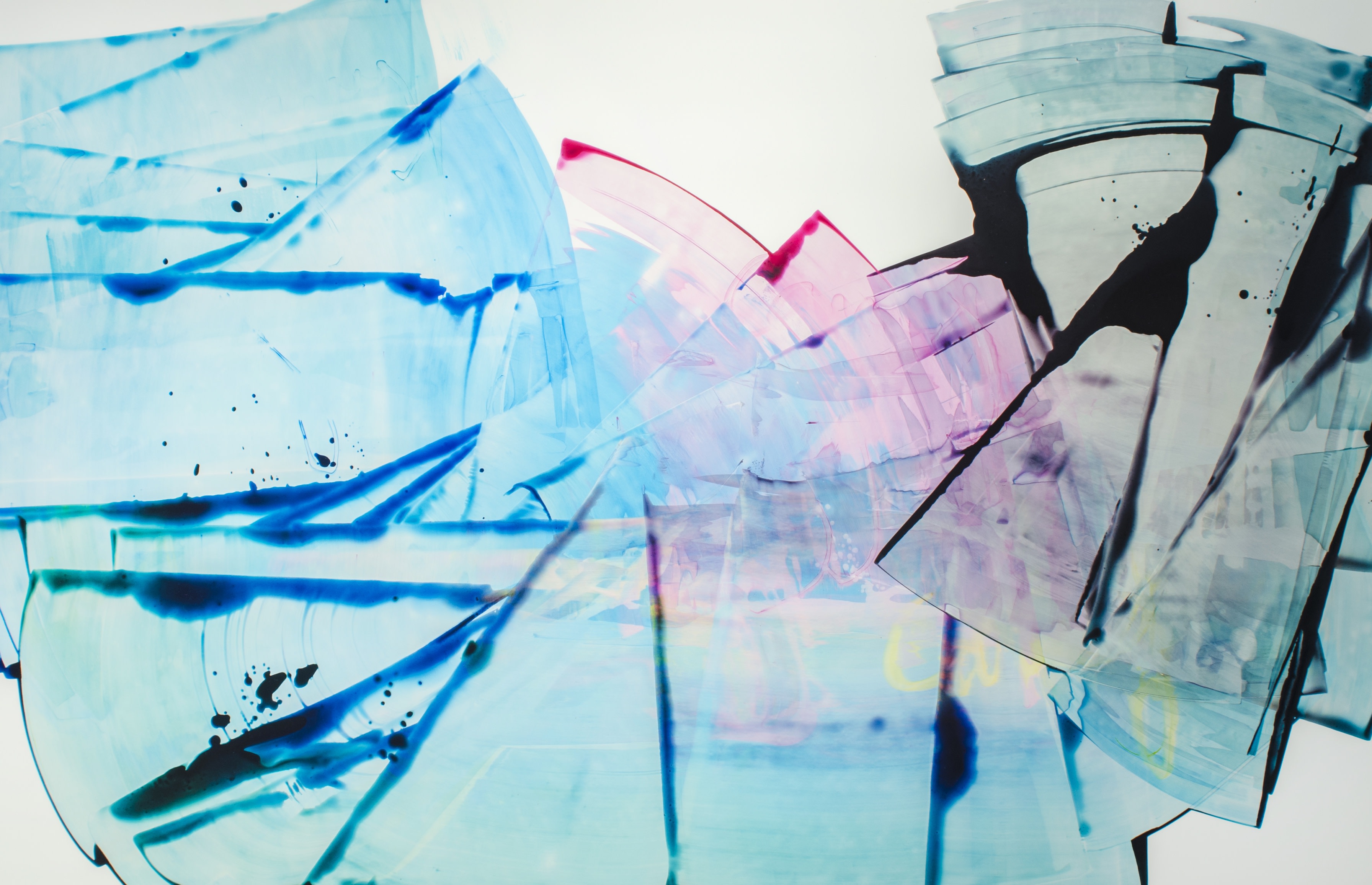 "Close Fade," by Sarah Irvin
Sarah Irvin's diverse body of work simultaneously explores the tangible - water lillies, the rhythm of a rocking chair, a baby's bottle - and the abstract - memory, heritage, motherhood. Her pieces are conceptual, with the process and motivation enhancing the artistic concerns of color, space, and gesture rather than supplementing them. Currently completing her MFA with George Mason University in Virginia, we spoke about the limitations of language, creating her distinct processes, and the effect her pregnancy had on her creativity.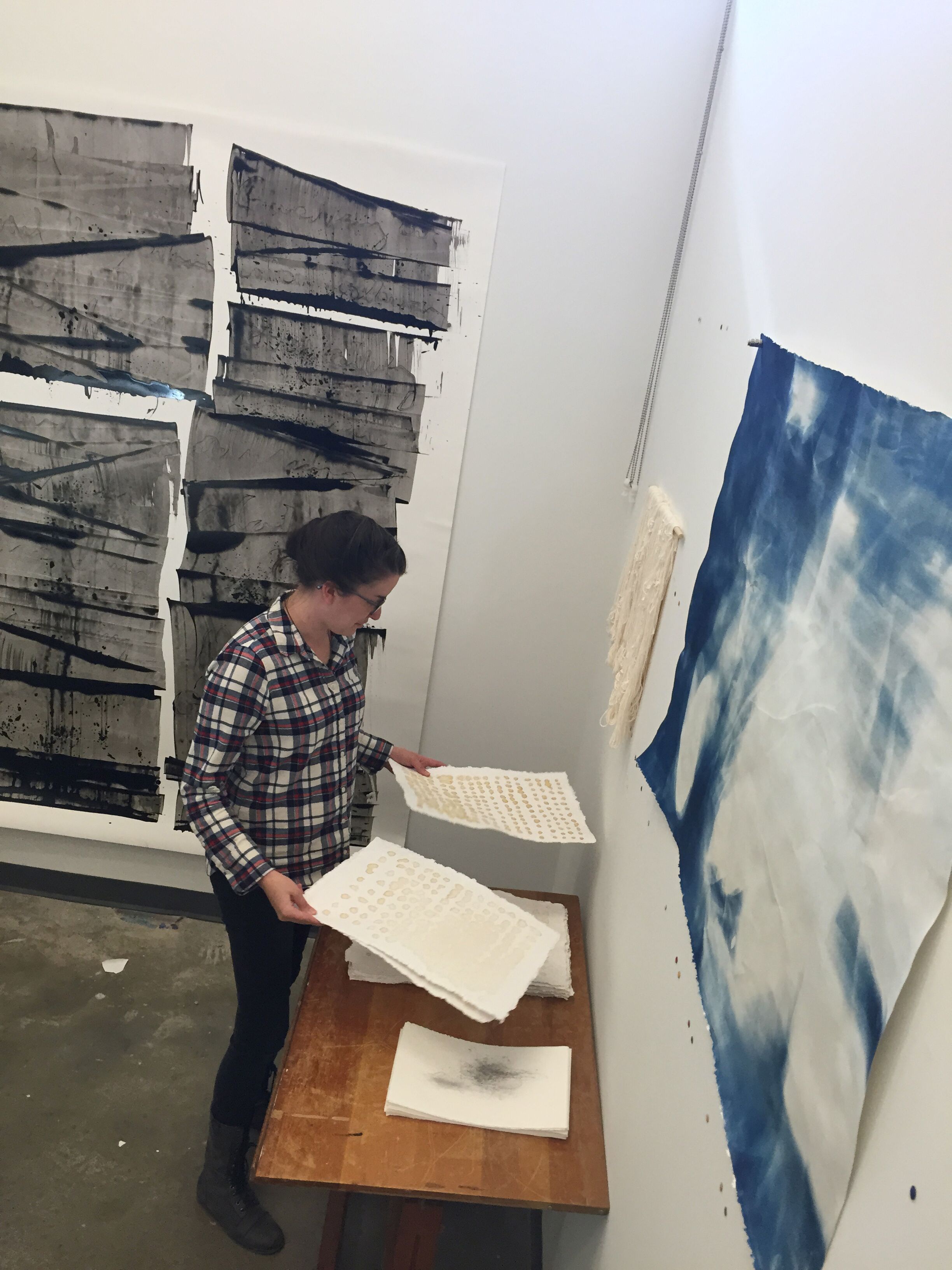 Photo courtesy of the artist
What are your earliest memories relating to art?
My parents tell me that around three years old I told my mom that "God made me to be an artist." I don't remember saying it, but who can argue with a prophetic toddler? From that point, I am told I started taking my studio practice very seriously. Starting around 7 or 8, I remember watching our neighbor painting in his studio in his home and I thought it was completely amazing. I've always loved materials and making things. I always wanted "to be an artist."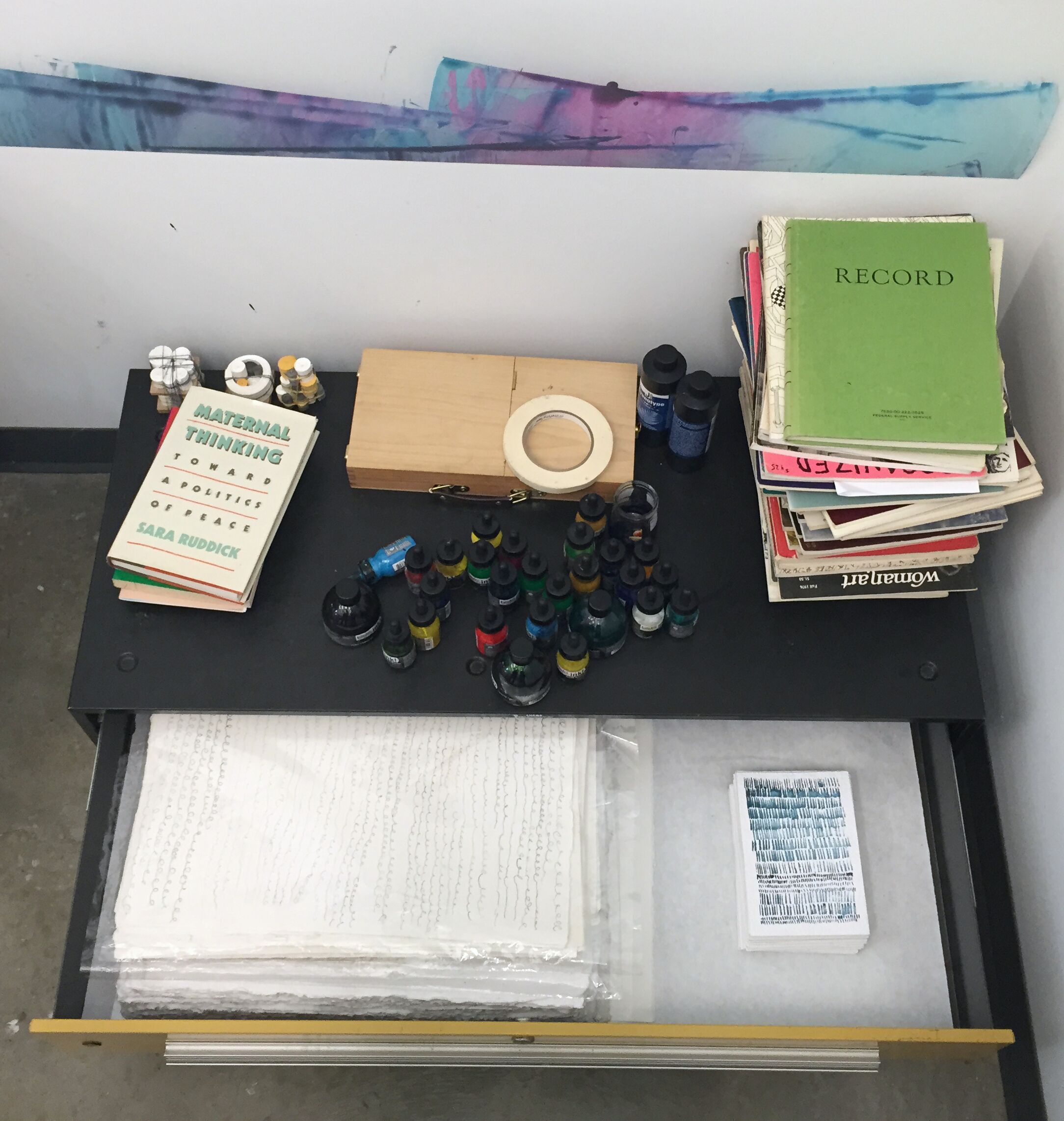 Photo courtesy of the artist
A lot of your work is honoring your grandfather. Could you talk a little bit about your relationship with him, and how his role in your life has affected your work?
My grandfather was diagnosed with Alzheimer's when I was in middle school. He was a pastor in rural west Texas and also the City Parks Superintendent of San Angelo, Texas. As the Superintendent, he worked with water lily breeder, Ken Landon, to establish an internationally recognized public water lily garden. My grandfather was the first family member that I lost, and water lilies from the garden were at his funeral. I started to create paintings using images from the garden along with hidden and distorted text based on personal memories. I used carbon transfer paper to write so I couldn't see what I was making as I made it. I applied layered washes of paint and blocked out opaque areas to allude to accumulated, distorted, or lost memories. I wanted to combine my memories with imagery that had significant personal importance in a way that more broadly dealt with memory and memorializing as well as how the process of aging affects a person and their family.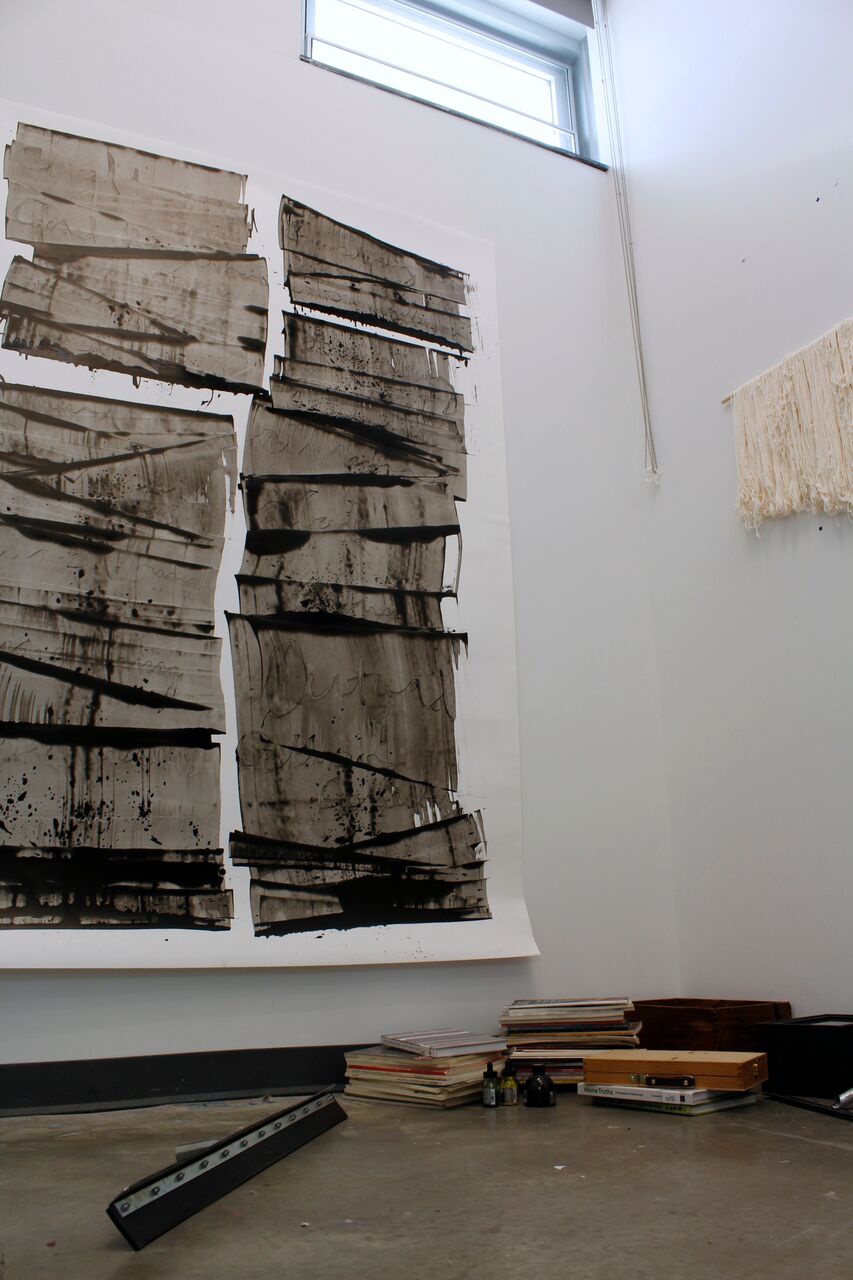 Photo courtesy of the artist
For your ink series, what drew you to the themes you're exploring in the work, along with the particular process you're using to represent those themes?
After several years of making work with the imagery of the water lilies, I wanted to step back and think more generally about memory and language. Still using personal memories about my family, I create work for the ink series by writing text onto non-absorbent paper and then I rearrange the ink using a squeegee. I use ink specifically because of the association it has with words and publishing. Everything is there, but it can't be read. In most cases, I have completely forgotten what it said.
By making the work, I am thinking about how language can be lost on an individual level and how it changes and evolves on a societal level. How then, is this language applied to our actual experiences? How does it frame and reinvent that experience? How does what we tell ourselves about ourselves and our experiences affect our relationship to those around us?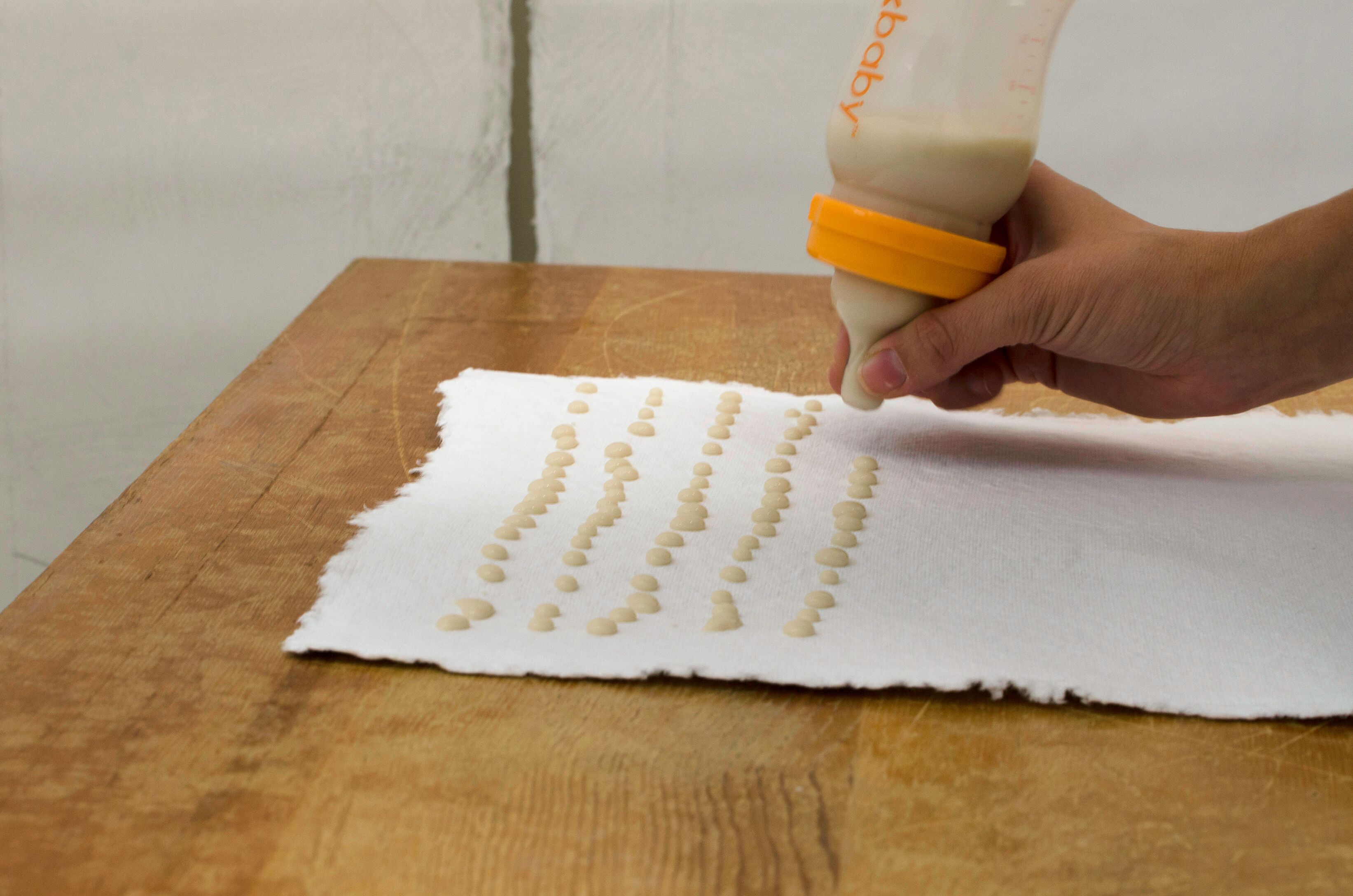 Photo courtesy of the artist
You have several series relating to your pregnancy and your daughter's birth. How did this period in your life affect your relationship to art and your artistic point of view?
Becoming a parent completely changed my outlook as an artist. For a long time I thought that having a baby would not be compatible with a studio practice. It's something you hear from so many artists. At the beginning of grad school, I began to question this. What if the incompatibility came from the practice, not from the baby? What if my experience with pregnancy, labor, delivery and parenthood could actually define my practice and drive my work? I began to plan projects that I was very excited about that could only be made in the context of pregnancy or caring for a child. For the first time, I had a strong desire to have a baby. So, I decided to have a baby during grad school, and that the experience would be research and a method of creating.
One goal I had was to ignore things I thought of as a traditional studio practice and to try to find a new way to create. If those traditional practices were keeping me from being open to a new life experience, then I assumed they were also inhibiting innovation in my work. If artists are all working in one way, we will only make one kind of art.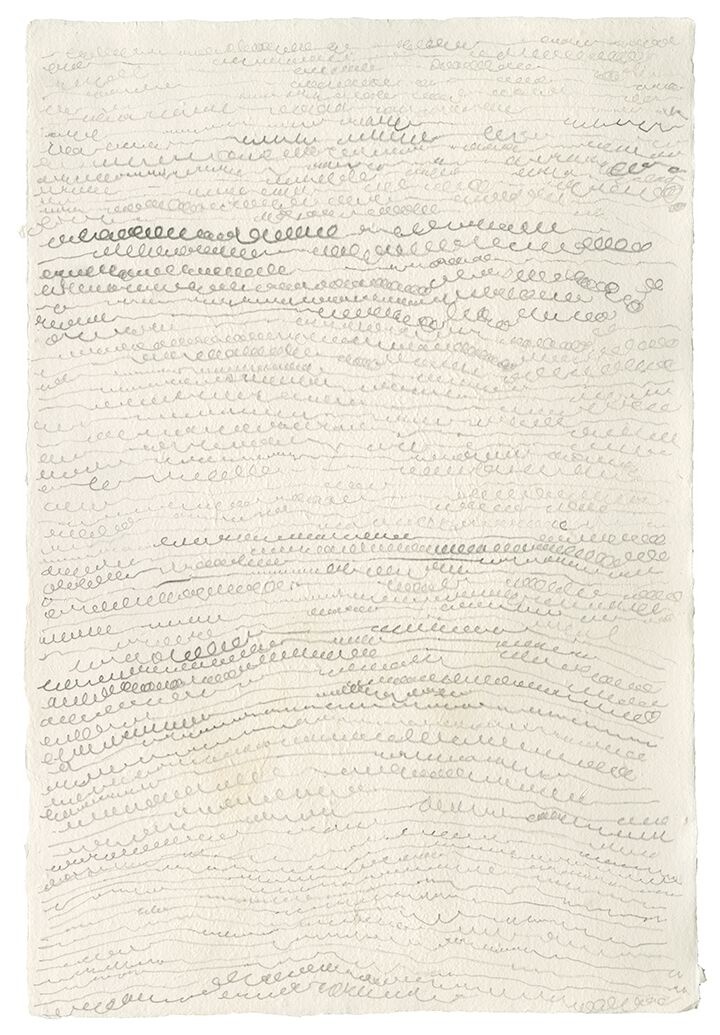 Breastfeeding series, photo courtesy of the artist
In March, my thesis show will focus entirely on my experience as a mother. The show includes drawings created with the glider rocking chair in the nursery, drawings I made while breastfeeding, and transfer drawings created by walking across the nursery rug.
Along with the work I'm doing myself, I'm working to create platforms for other artists making work about their experience as parents. I am curating and proposing shows about parenthood to allow space for people to explore these themes. I've just started a website that is a growing searchable database of artists making work about their experiences as parents. It's in the early stages, but it's very exciting that there are many, many artists to be added to the site.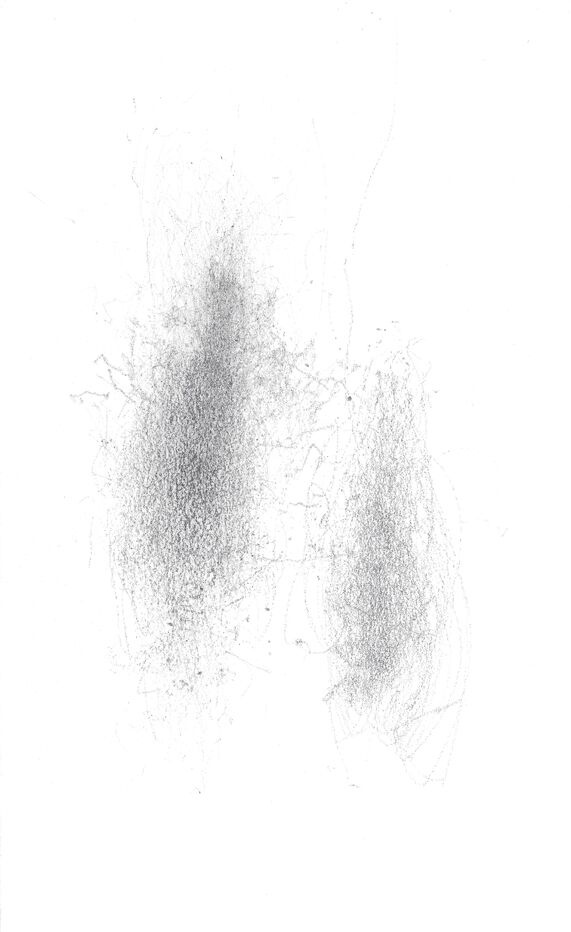 Rocking Chair series, photo courtesy of the artist
Your work touches on a lot of what would typically be considered feminine themes -- family, motherhood, subverting traditional women's work in the case of the Quilt Series -- did you deliberately set out to focus on these things, or was it simply what you were naturally drawn to?
I try to create artwork based on very specific personal experiences. By default this brings up issues bigger than myself. It never made sense to me to create work where the starting point was a grand idea about which I supposedly had some authority. When the act of evaluating my perspective is the starting point for my work, it gives me room for growth. It continually leads me to new topics. It allows me to be wrong and then to learn. It reminds me that there are others with their own opinions and experiences.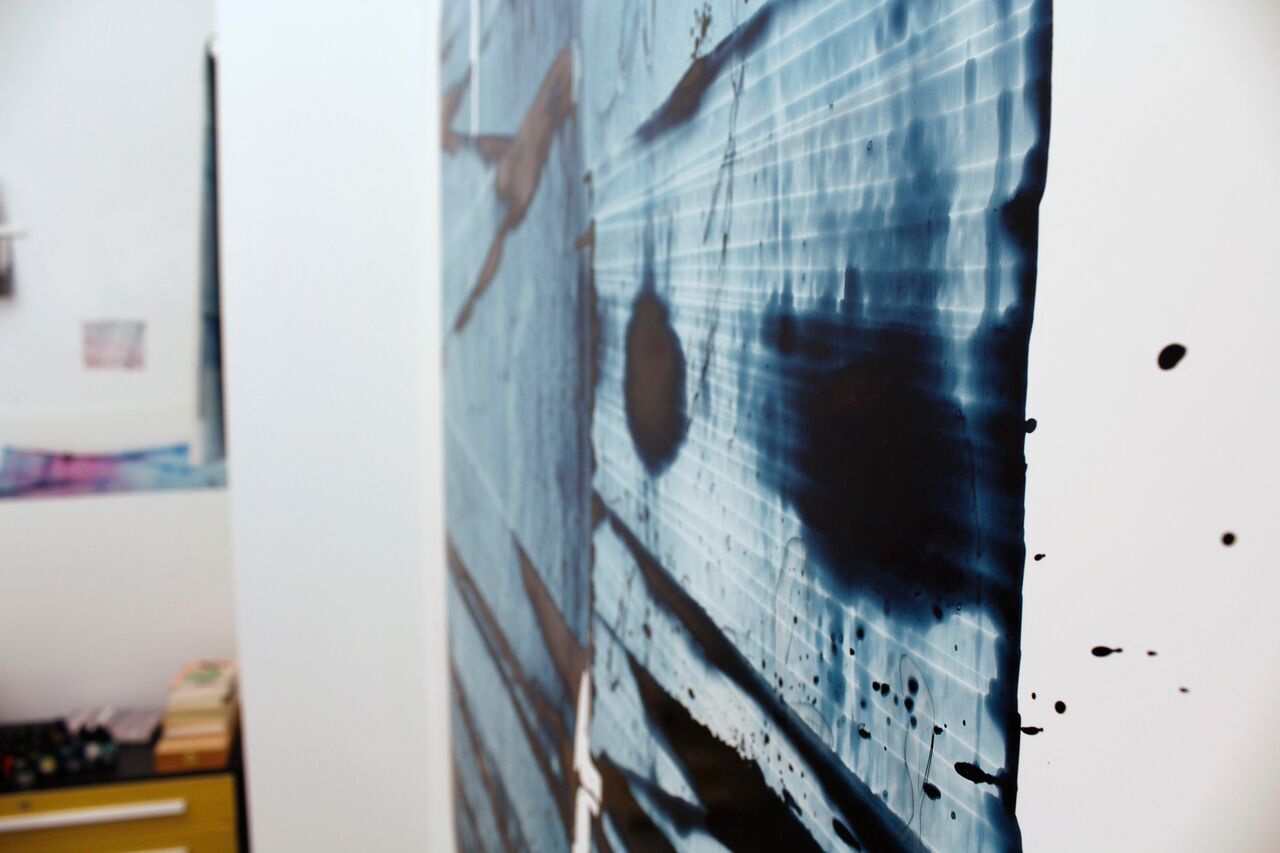 Photo courtesy of the artist
Do you consider your work political at all? Do you consider it feminist?
Creating work based on self-examination led me to directly acknowledge that we have a huge gender issue that is a disservice to everyone and more than a problem. I am a feminist. I'm not really here with a plan, but I am giving my own experience some serious examination and encouraging others to do the same. If we are all asking questions about our circumstances and examining how we understand and affect those around us, I believe it will lead to better social norms and better public policies. How do my life experiences shape my opinions and actions? How does this affect others? What If I am wrong? I hope thinking about my work, specifically the work about motherhood, encourages this questioning.
Explore more of Sarah Irvin's work here.