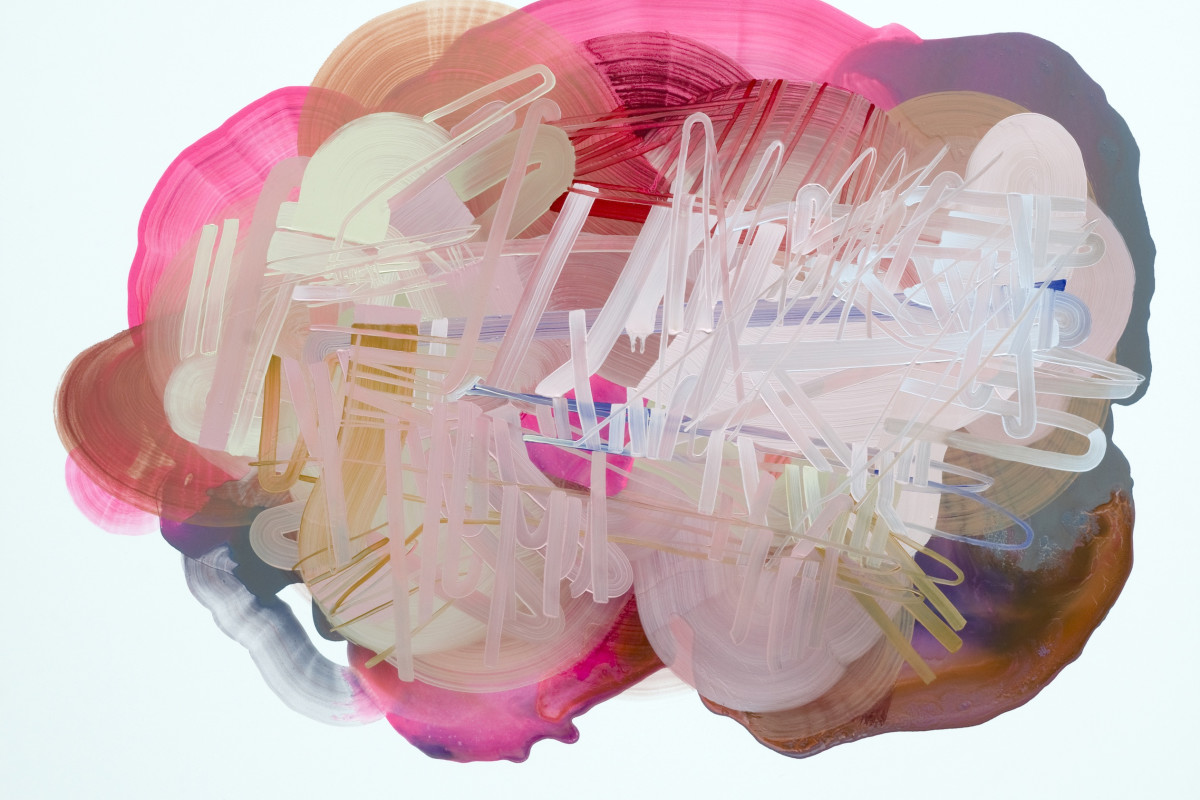 Every week, we'll be sitting down with one of our gallery artists to discuss their work, process, inspiration, and stories. This week we're speaking with Dana Oldfather.
Dana Oldfather's work celebrates paint while blurring the line between figure and abstract. Semi-realistic underpainting inspired by friends, family, and TV is obscured by frenetic mark-making driven by anxiety. As the layers are built up in varying weights and opacity, the narrative is hidden behind abstraction with a pulsing energy. Through this process, Oldfather transforms her insecurities about her different roles as a woman in the world into bittersweet beauty, grappling with the belief that beauty's fullest potential can only be achieved by coming through the darkness. Oldfather talked with us about finding her voice, what she seeks to hide and enhance, and the effects having a child had on her work and process.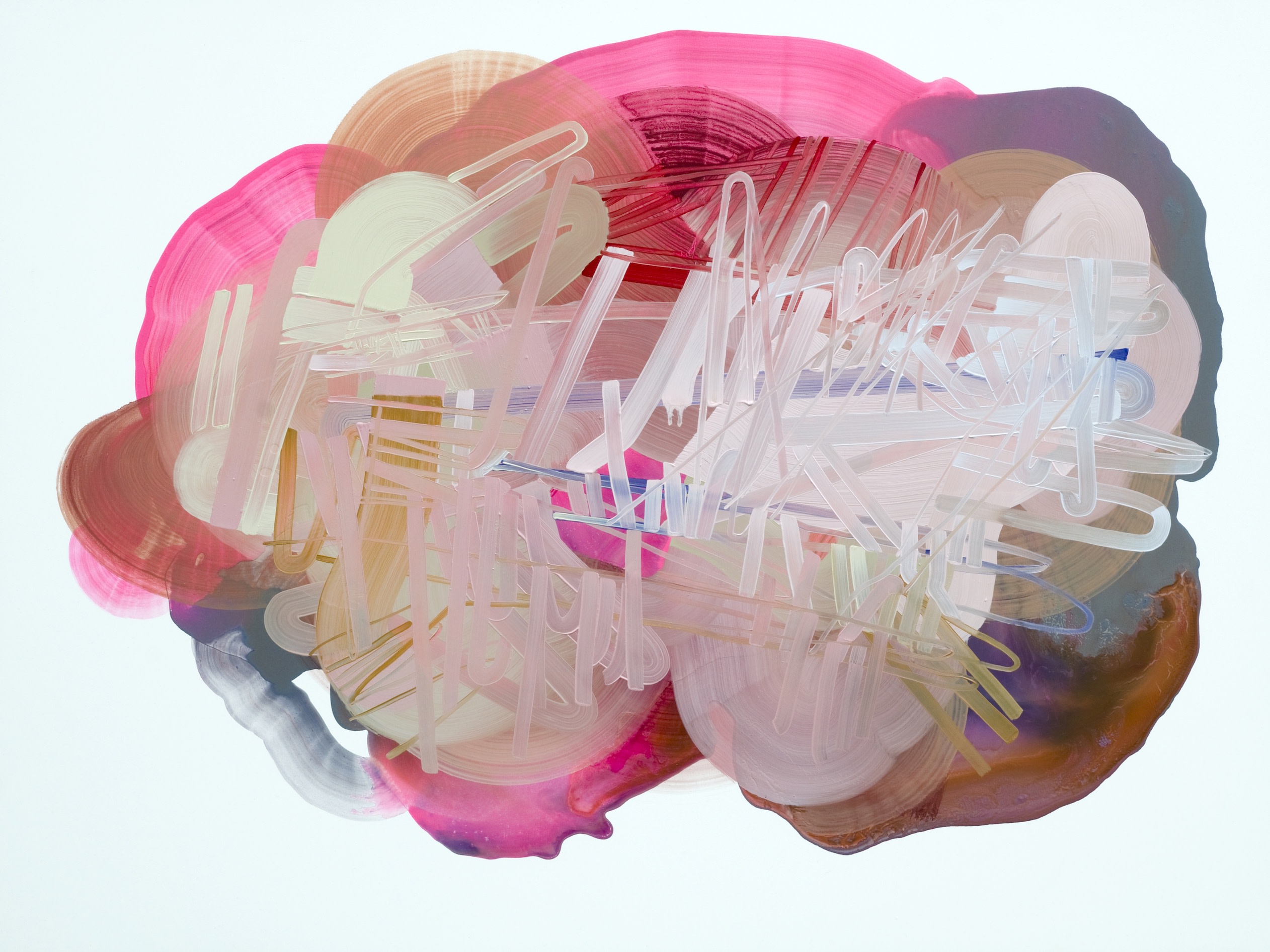 "Raspberries 1"
What are your earliest memories related to art? How and when did you start becoming an artist yourself?
My dad is a painter and as soon as I could hold a brush he encouraged me to paint. I made lots of large abstract watercolors when I was 2 and 3 and worked on my first oil painting when I was 5. As a freshman in high school I was placed in an advanced art class, so by the time I was a senior, I had class by myself - essentially just an open studio that lasted most of the school day. I started considering myself a serious artist when I was around 21. I quit my job as a paralegal, took a position a local gallery/frame shop, and made paintings at night. Eventually I went to part-time at the gallery and took a bartending job at night, which freed up more days for painting. I'm most productive in the morning. Eight years later I was able to quit both jobs and paint full time.
What was the evolution like towards finding your current voice and visual vocabulary?
In high school I was a surrealist painter working in acrylic. In my early 20s I made photorealist oil paintings of figures in the downtown landscape of Cleveland, where I lived. From there, it took another 8 years to gradually transition to pure abstraction. I've been painting and exhibiting professionally for roughly 15 years now. The work took a big leap forward after I had my son, Arlo, in 2013; techniques and ideas clicked into place at the same time.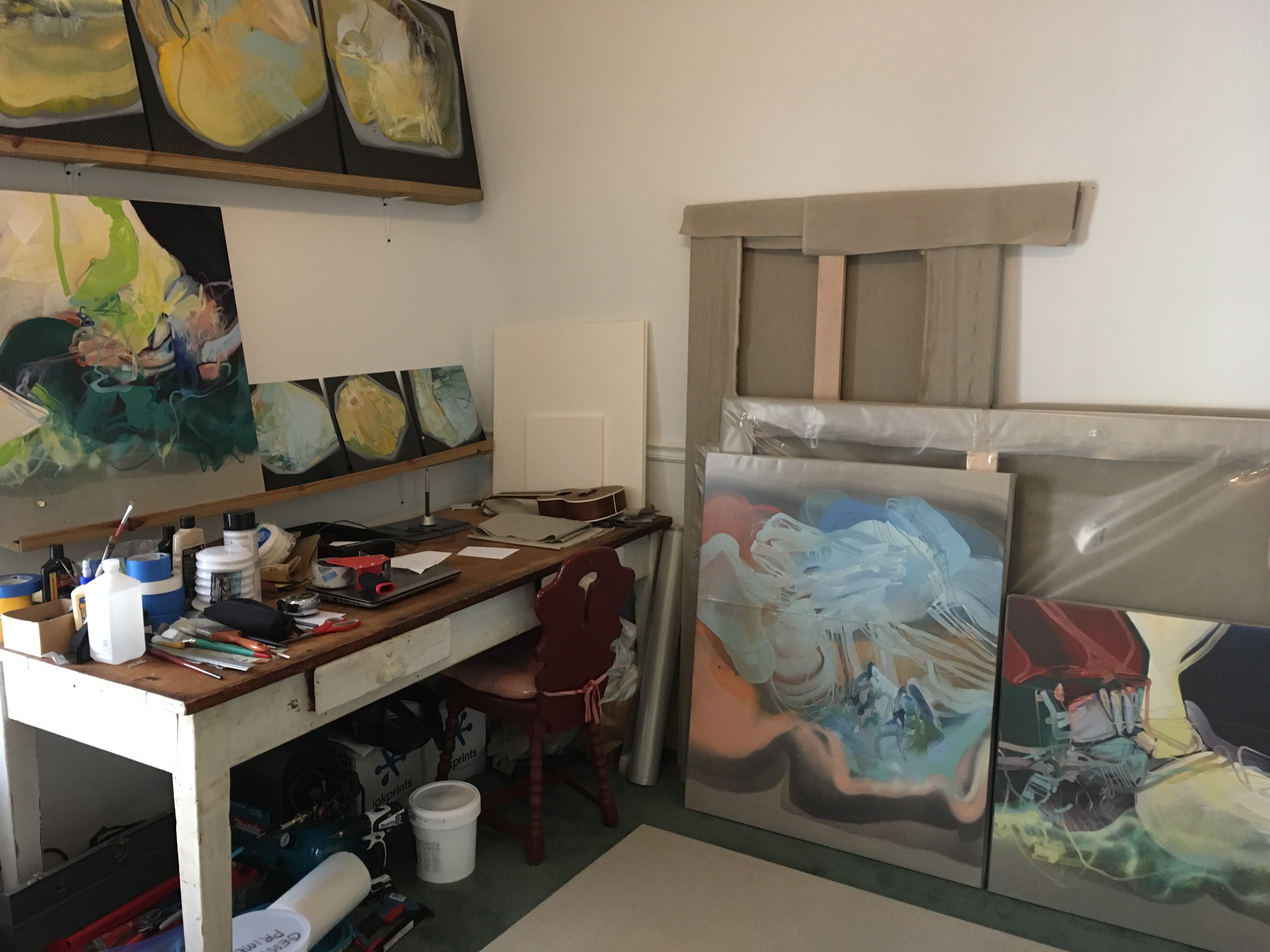 Dana Oldfather's studio, photo courtesy of the artist
How did you come to exploring this "possibility that beauty's fullest potential is achieved by coming through darkness"?
Formally, I was learning how to make two dimensional paintings appear full of space. I started using an ink bleed in the first paint layer to act like a shadow. The acrylic and oil paint pulls itself through the shadow to the foreground as the painting develops. Conceptually, though, it was having my kid. I found out the hard way I don't care much for babies, or pregnancy. I'm not a natural mother. It was pretty rough going for awhile. With the desperation of a drowning woman I clung to my studio practice, and things really started blossoming there. Eventually, my son became a toddler, I was able to get some help from family, and the artwork propelled us forward.
What is your process like?
The way I make paintings is shifting again which is exciting. I've started using photo references to drive composition and narrative. I block in a scene from my midwestern domestic landscape and obliterate it through layers of ink, spray paint, acrylic and oil glaze and heavy strokes of oil paint. I never know what the paintings are going to end up like; it's electrifying and a little frightening.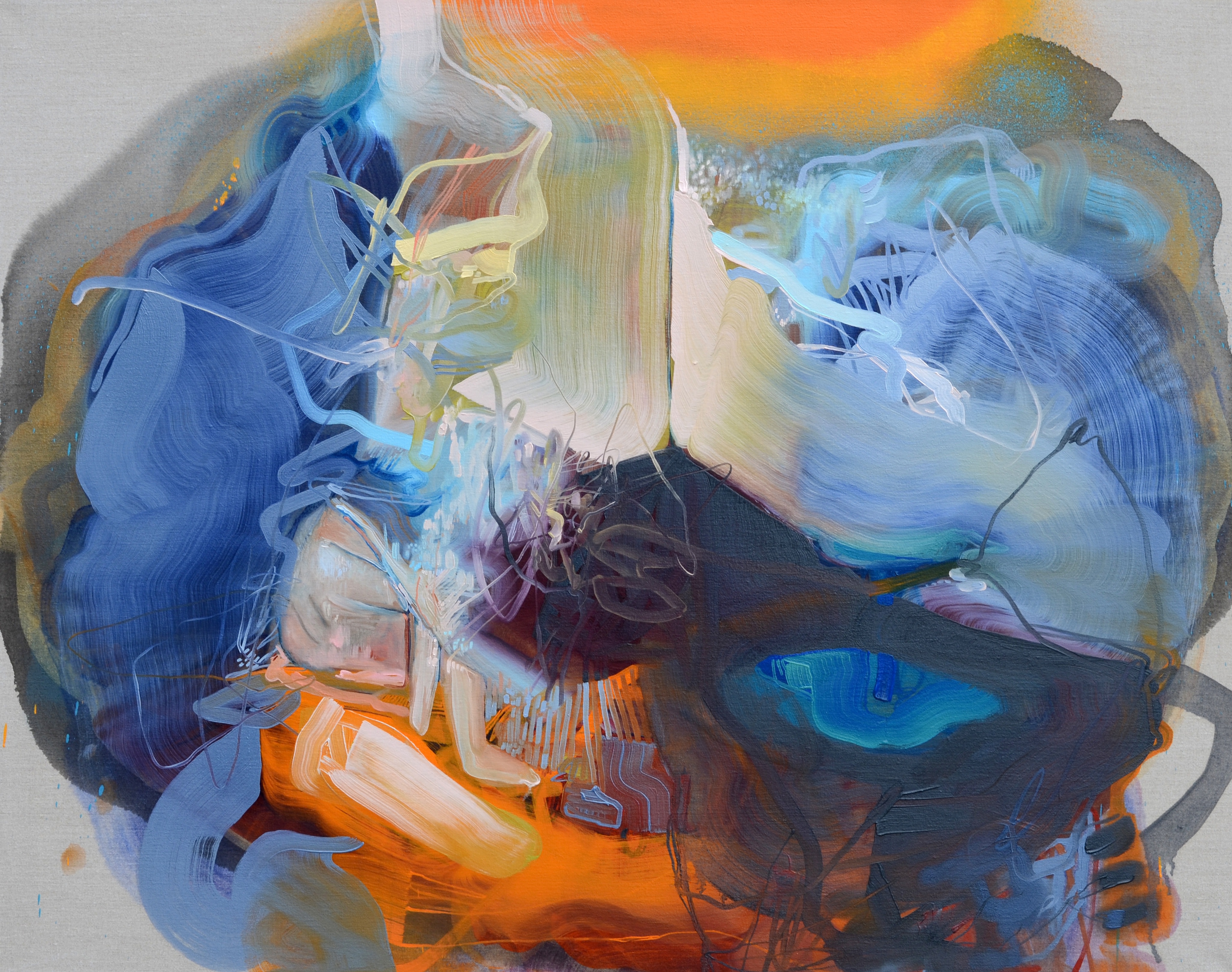 "Sit and Spin"
What are the kinds of narratives - both personal and about your role as a woman - that you begin with and seek to hide?
I enjoy metaphor and allegory far more than literal images. I'm not trying to hide anything by destroying the realistic underpainting, I'm adding to it: feeling and fantasy. I'm crocheting my interior life onto my exterior one. Some of the themes I'm beginning to explore are the isolation and loneliness of motherhood, exceptions to the social mores we teach young children (i.e. the subjective values of "good" and "bad"), and the fragility of comfort and happiness.
What do you explore in your drawings and prints as compared to your paintings?
I haven't had time to do many drawings or prints lately. My head has really been in the paintings. I can do more layering on the linen and things can get weirder. The drawings and prints on paper must be very designed and I'm becoming less and less interested in that.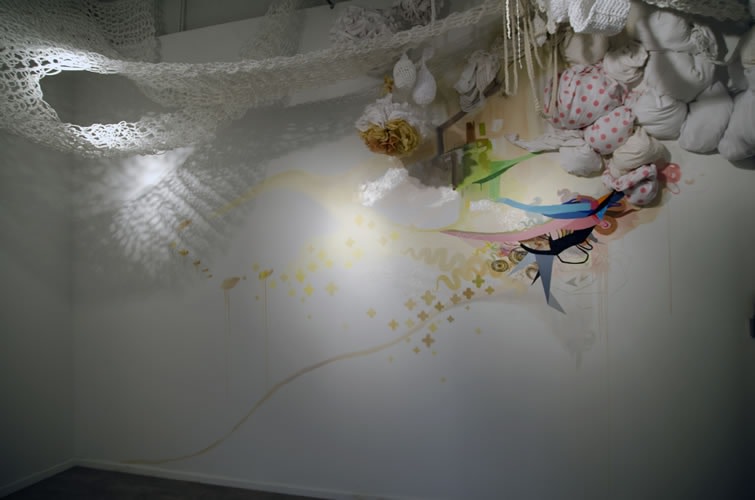 "Marrying," photo courtesy of the artist
Could you talk a little about your "Marrying" installation?
I was the artist-in-residence at Zygote Press in Cleveland, Ohio in 2011. The "Marrying" installation accompanied an exhibition of prints I made there. During the residency period I was planning and taking part in my wedding. Some of the materials in the installation were wrapping from wedding presents we received and old bed sheets. It was my first experiment in site-specific sculpture and thinking three dimensionally greatly informed my painting practice from then on out. It also solidified my desire to be a painter through and through. I'm far more interested in making objects that unfold over time, objects that one lives with, rather than making a big spectacle of a thing. Painting is my preferred mode of contributing to the world. I appreciate installation art and what it adds to the contemporary art conversation, it's just not my language of choice.
Where do you see your work going from here?
I'm looking forward to seeing how abstracting from life unravels. It feels so full of possibilities - especially in the narrative, which is under-explored in my previous work.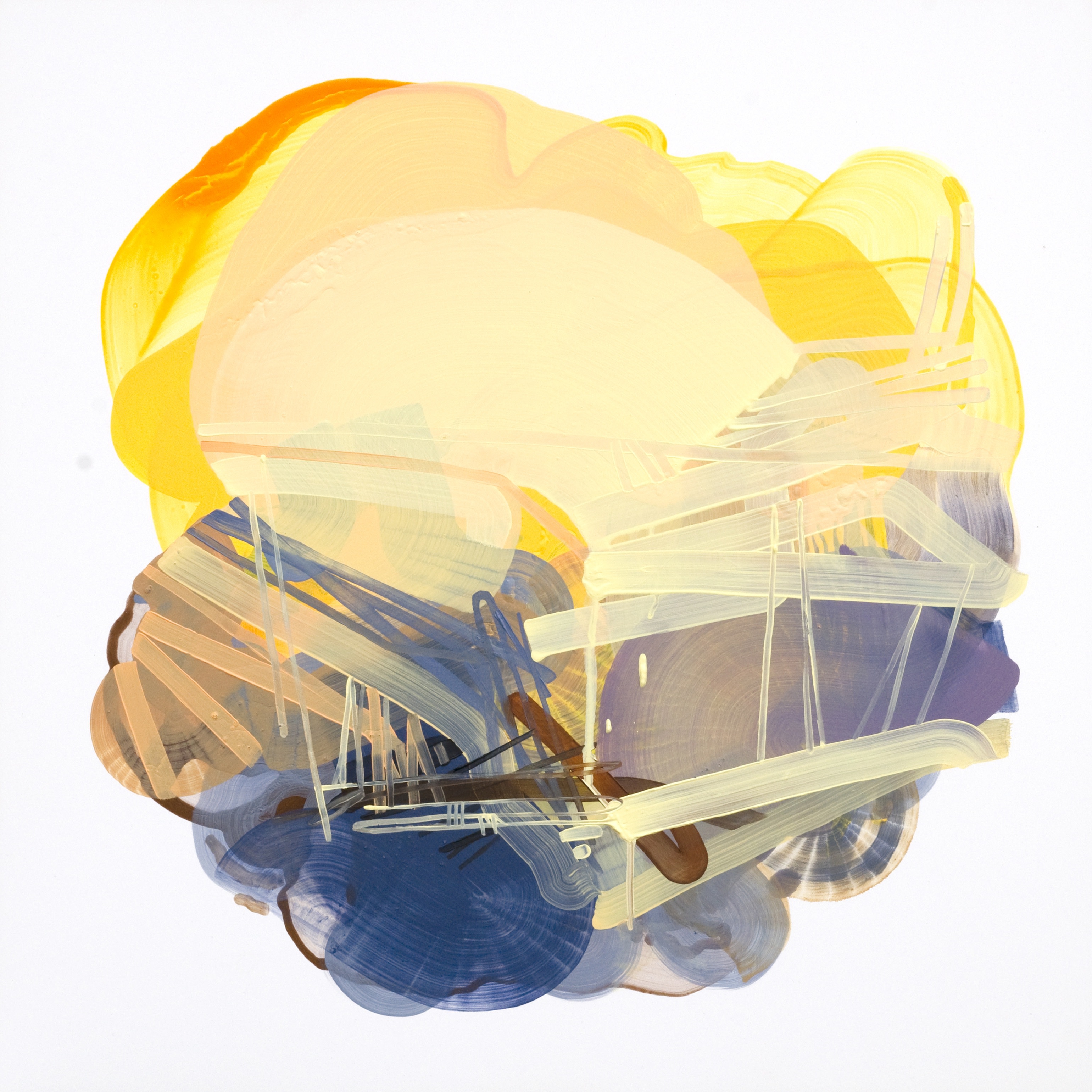 "Heart of Gold"
See more of Dana Oldfather's work here.