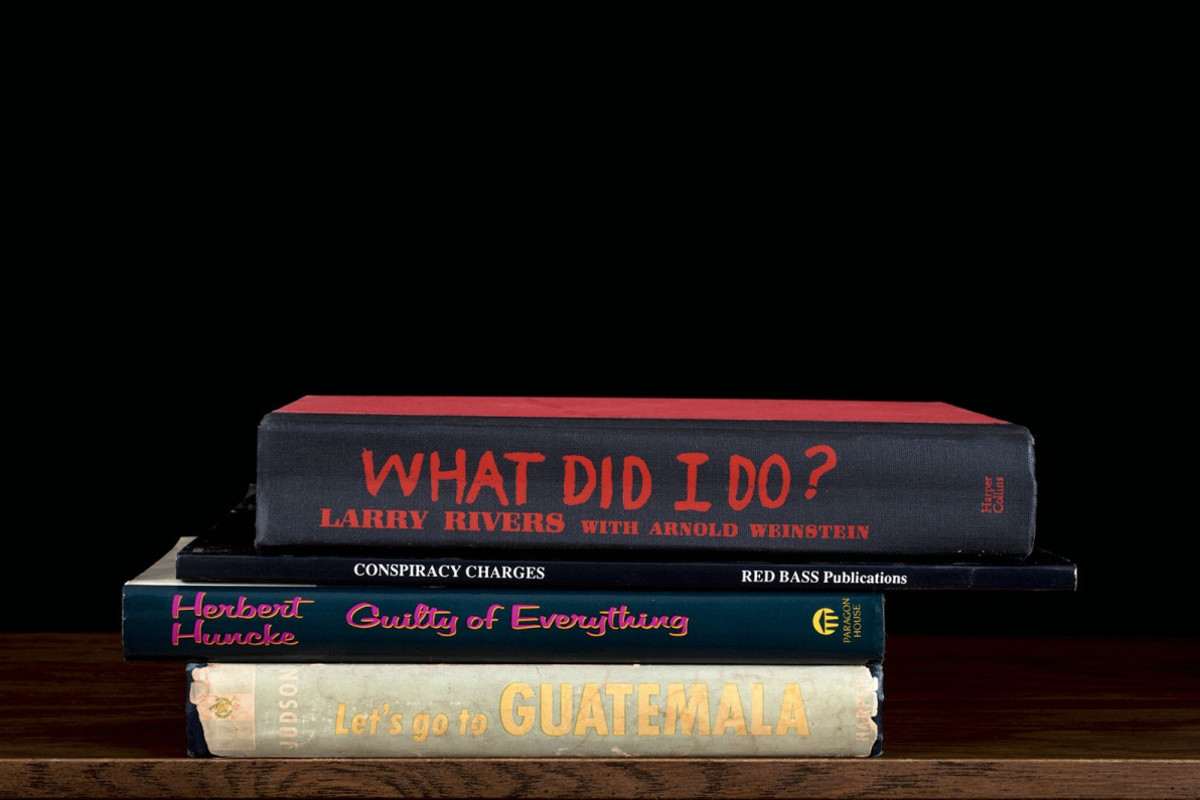 In conjunction with her solo show, "BTW," Deborah Zlotsky is also curating a group show titled "STACK." The word "stack" has many meanings, like voluptuousness (stacked), worthiness (stack up), and exploding in anger (blow your stack). With today's political divisions, the connotations lead quickly to "stacked against," using power in a partisan way to force someone to do something or to tip the scales in favor of one side. Stacking, as a provisional and daily tool, creates order, minimizes sprawl, gives us agency and authority. It provides us with a feeling of empowerment and control. These themes are interpreted throughout the works on show in "STACK." We asked Zlotsky about what inspired the show and what her curatorial process was like as we start preparing for the openings of "BTW" and "STACK" on Thursday, May 11th.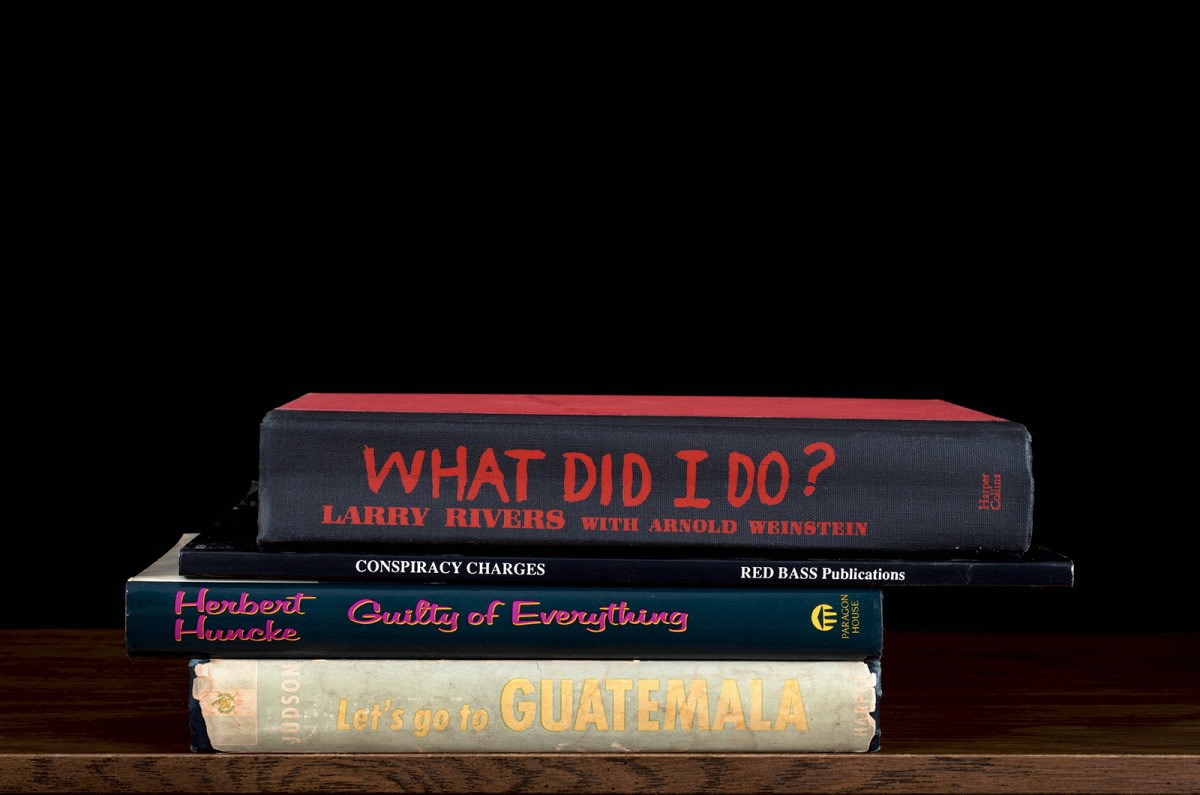 Nina Katchadourian, "What Did I Do?" 2014, C-print, 13 x 19 in
What inspired "STACK"?
Two things happened around the same time. I was making new paintings that would end up in BTW and I saw Kerry James Marshall's thrilling show at the Met Breuer. In one of the galleries, he had organized a show curated from the Met's collection. Experiencing his work in the company of art he admired felt very intimate and special. Sharing the gallery with artists I admire was an experience I wanted as well. I sensed a curatorial project could add a dimension to my work—something both direct and expansive. When I asked Kathy Markel what she thought about a group show embedded in my upcoming solo show, she immediately gave me the green light.
The work in BTW came out of stacking relationships and discovering anomalies within those relationships. I tend to stack things around the house and the studio—at least temporarily—to create a sense of order and to free up space, as I've often lived in tight places and I have too much stuff. Stacking allows me to feel less hemmed in. I grew up with art hung salon-style throughout my parent's house, which in some ways drove me nuts, so I'm probably torn between the lushness of being surrounded by things with history and aesthetic presence, and craving space, light, and no clutter: a place where I can move freely and easily. All of those thoughts were triggered by vintage sheets I bought at a local garage sale. Because I was developing new work initiated by stacks and stripes, I thought my research could extend into mentally gathering work around a similar idea. I started planning a theoretical group exhibition that could theoretically be housed in the same space as my new paintings. It was really just a thought experiment at first, as I'd never curated a show before.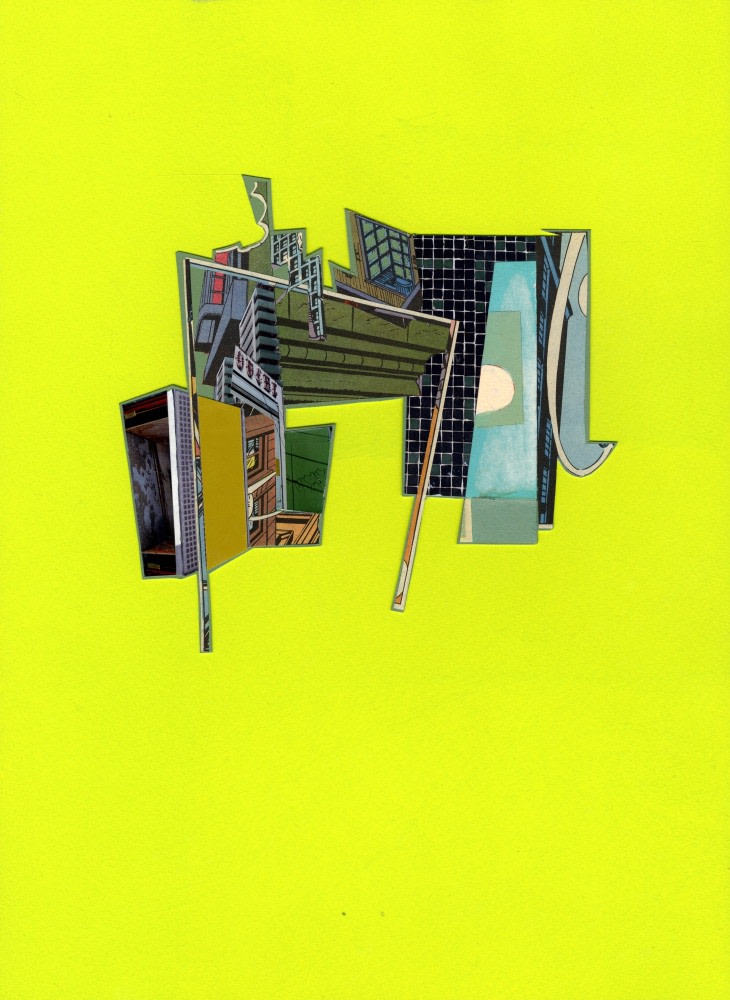 Mary Lum, "Index 3," 2011, acrylic, photograph, and collage on paper, 13 x 10 in
What was the curation process like?
Once I started planning a theoretical show to accompany my solo show, I began thinking about artists whose work contained that poignancy of placing one thing on top of another—awkward, beautiful piles of sometimes integrated, sometimes disparate parts. As I thought about the possibility of a show, I became more aware of the political side of the word "stack" in the context of Trump—the rhetoric of rigging and stacking against. I found those notions maddening and destructive, so different from the stacking I do as an artist. The stacking I gravitate to is productive and clarifying.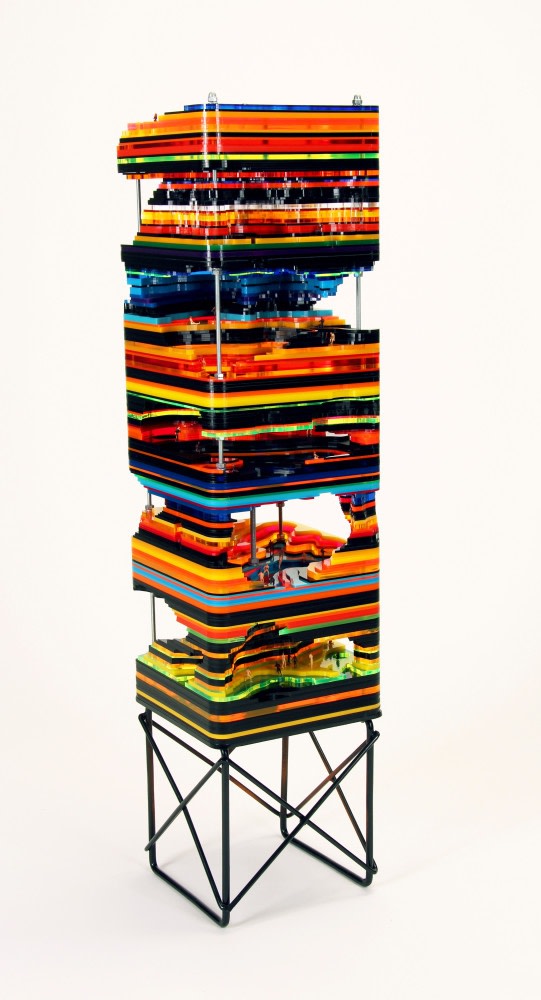 Susan Meyer, "Vinyl," 2011, laser cut acrylic, HO scale figures, aluminum stand, hardware, 40 x 10 x 10 in
How is the idea of stacking interpreted/represented differently throughout the show? What different interpretations of "stack" did you explore as you were deciding on the pieces?
The idea of stack and stacking is just one way to understand each work. All of the works in the show are complex and nuanced, each possessing a range of sensibilities and ideas. However, by placing them together, I hope to experience the richness and eccentricities of their similarities, at least for this moment of intersection and proximity.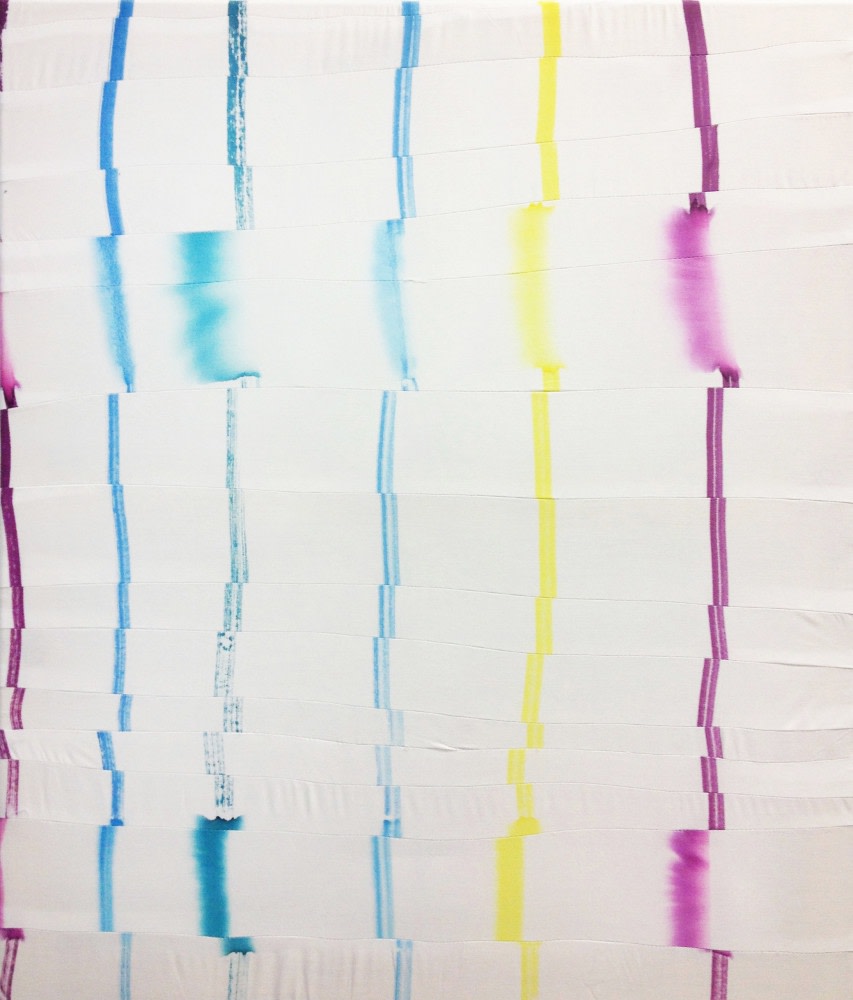 Gina Occhiogrosso, "Blind Date," 2017, acrylic and ink on sewn cotton, 24 x 20 in.
How do you think your sensibility as an artist is reflected in the show?
I'm not quite sure how to answer this as I'd like to think that my tastes and interests are pretty catholic. I'm drawn to work that has complexity to its language or expression, which makes it familiar yet unfamiliar.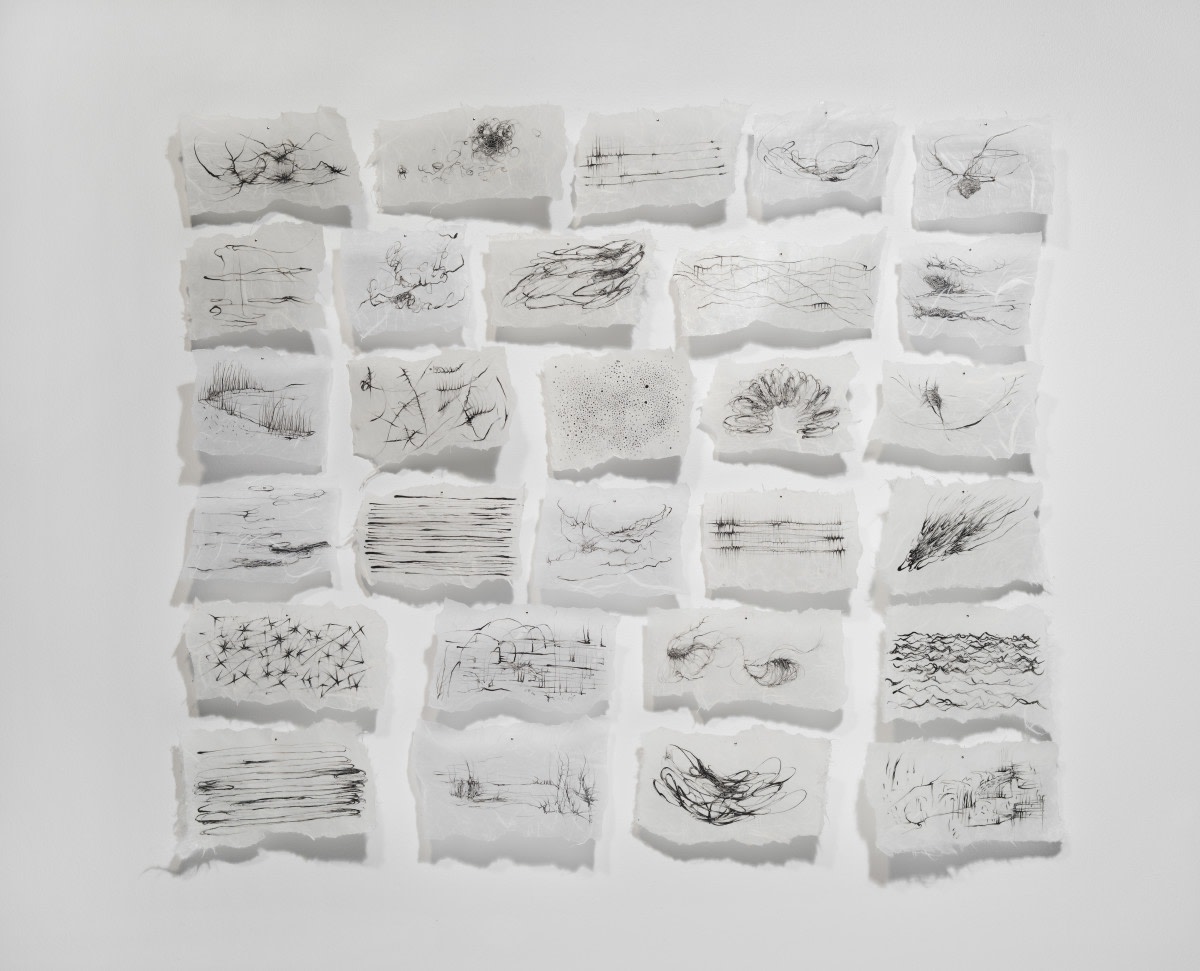 Susan D'Amato, "Taxonomy of Air," 2017, ink on rice paper, 20 x 24 in.
What are the connections that you see between "STACK" and "BTW"?
Selecting the word "stack" allowed me to think about confluences running through disparate work, which is something I enjoy doing. I was interested in how other artists stack and pile as certainly there's a tie between the stripes, accumulations, and stacks in both shows. As I was in the middle of developing my own new paintings, I wondered how the word "stack"might identify work dealing with the complications of daily life and the attempt to create order despite forces pushing against that desire. We're all overwhelmed by the glut of emails, news, and tweets. In texting "btw," the secondary information that's conveyed just adds to the complexity and difficulty of sorting information. I'm also drawn to imperfections, anomalies, and ambiguities that remain in works despite the desire to classify or organize. In the work in "STACK," there's often a visual or sensory lushness of interval, repetition, and rhythm that I hope is also a part of my paintings.
Deborah Dancy, "I Did Not See That Coming," 2016, oil on canvas, 36 x 36 in.
Deborah Zlotsky's "BTW" and "STACK" will be on view from May 11th through June 17th. "STACK" features work by Joe Amrhein, Ginny Casey, Ashley Norwood Cooper, Susan D'Amato, Deborah Dancy, Torkwase Dyson, James Esber, Valerie Hegarty, Nina Katchadourian, Joan Linder, Mary Lum, Thomas McArdle, Susan Meyer, Gina Occhiogrosso, Crit Streed, Craig Taylor, and Heesop Yoon. More information about the show can be found here.
Heesop Yoon, "Still Life with Books," 2016, etching, 15 x 22 in.