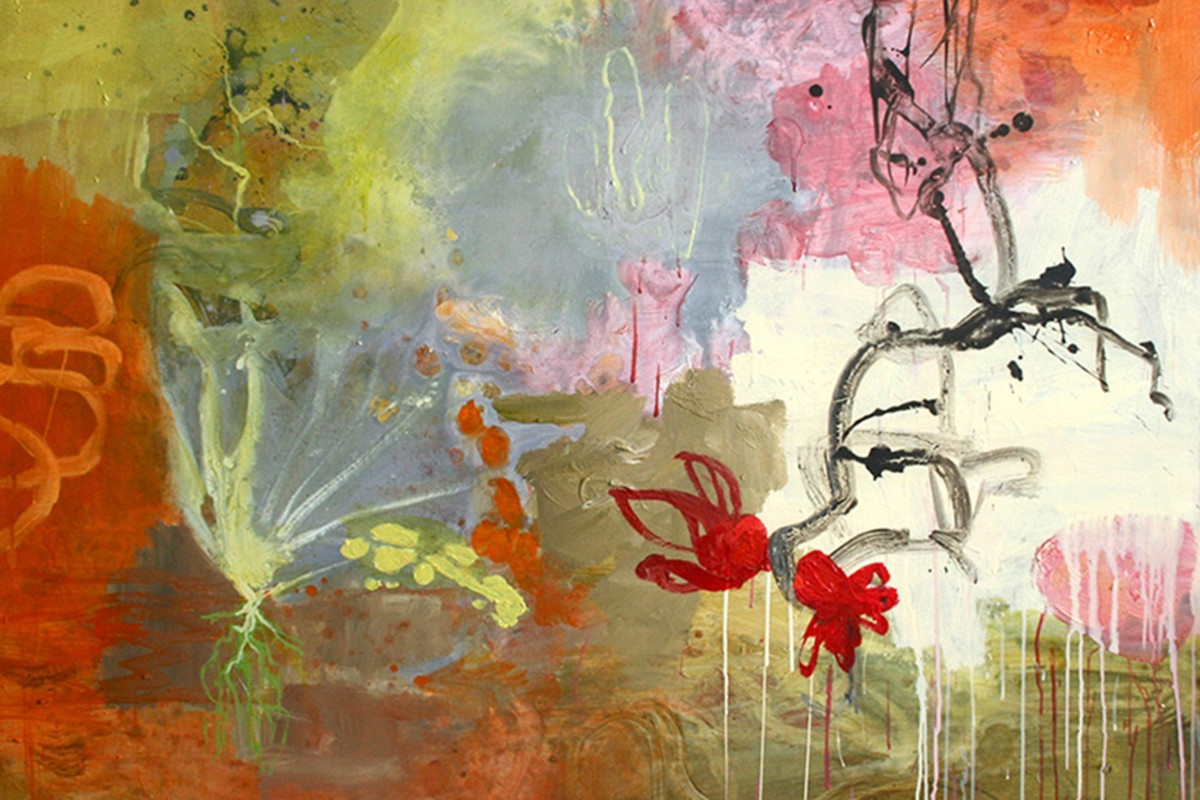 Every week, we'll be sitting down with one of our gallery artists to discuss their work, process, inspiration, and stories. This week we're speaking with Allison Stewart.
"On the River #8"
Allison Stewart's work occupies a space between landscape and organic abstraction. It evokes hazy summer days, the constantly shifting boundaries between water and the land, crisp mountain air, the lushness of spring as flowers begin to bloom. Grounded with a technicality evoking Stewart's background in biology, her paintings are simultaneously a study of the familiar and an expression of our tenuous relationship with nature; they are a celebration of what remains, and a declaration of what's at stake. Stewart talked with us from her studio in a 19th century warehouse in New Orleans about the intersection of science and the arts, how the elements of a place affect her work, and the mystifying allure of nature that she seeks to portray.
Allison Stewart in her studio, photo courtesy of Rebecca B. Alston
What are your earliest memories relating to art?
I was six years old and living with my family in suburban Chicago. One Saturday my father and I rode the train into the city and went to the Chicago Art Institute and afterward to eat ice cream. I don't know what exactly was so important to me about that day, but I remember everything about that special Saturday and my trip to a museum.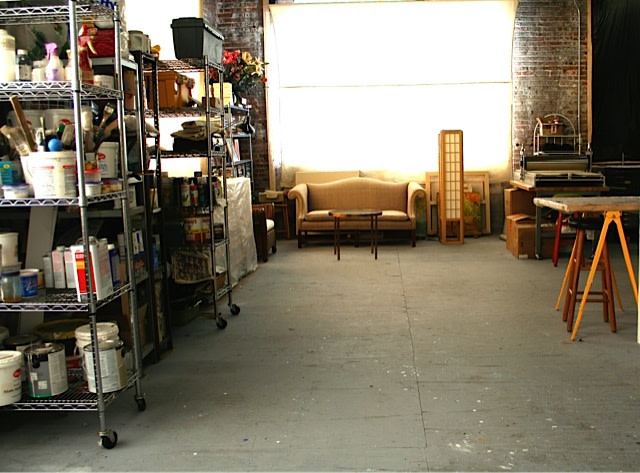 Photo courtesy of the artist
When and how did you start being an artist yourself?
I loved art, but didn't intend to become an artist. My father told me that artists were crazy and they starved for much of their lives. I studied biology in college and loved the visual aspects of it. Viewing the world through a microscope, dissecting different species, making elaborate anatomical drawings all appealed to my visual sense.
Biology also prepared me for a career. After college, I worked in a surgery research lab at a medical center in Mississippi. We were involved in some of the first groundbreaking organ transplants in the country. It was not until after I was married and my children were in elementary school that I went back to school to get my MFA.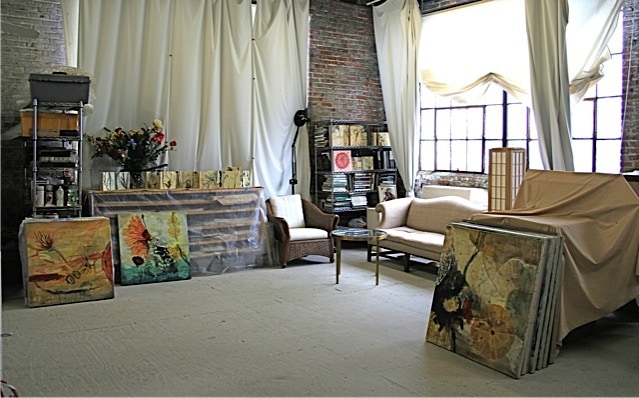 Photo courtesy of the artist
Between studying biology and having it be a focus of your paintings, it seems like nature is very important to you. What inspires you about it? Are there any other influences that find their way into your work?
I'm amazed at the order and complexity of nature, especially in the processes that constitute life on every level. I'm interested in the things we often overlook or take for granted such as the way plants turn to the light, while their roots seek darkness.
Another influence that enters my work is the presence of diagrams and maps, especially the flight charts that I had to follow when I learned how to fly. They appear in the first layers of the paintings.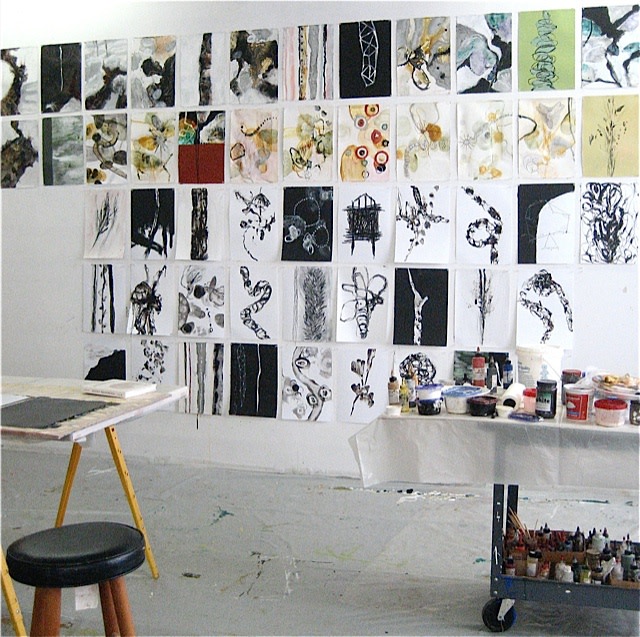 Photo courtesy of the artist
You work in New Orleans and Colorado and in your statement you talk about being affected by a sense of place. What inspires you about New Orleans and Colorado, and how do you find your work differing depending on where you are when you're making it?
In New Orleans there is a diffuse light and a verdant lushness that are caused by high levels of heat and humidity. Land and water co-exist in ever-changing boundaries as land continues to be lost to the sea. My paintings tend to resemble floating worlds; they're diaries about living below sea level. Colors and edges are softened and horizon lines become obscured in this watery, wetland, coastal environment.
In Colorado at 8500 feet above sea level, the air is dry and crisp, the colors are clear and one can see for a hundred miles across mountain peaks. I paint outdoors, so the elements come into play and the paintings become more arid, the colors more heightened, the textures more rugged.
Could you walk us through your process?
I paint on the ground on stretched canvas using water-based media including inks, acrylics, pigment dispersions, enamels, tar, hide glue, and charcoal. It is not until I'm well into the process that I decide which end is up. I build up layers until the painting tells me to stop. There is usually a reference to botany, although I'm leaning to more abstraction these days.
Photo courtesy of the artist
How else has your work been evolving lately?
I'm working for more simplicity, more directness, more concern with expressing essences rather than appearances of the natural world.
Do you consider your work at all political? Does it have an environmentalist message?
I think all art is political in some measure, but my message is more a whisper than a shout to respect the natural world and its processes. For generations we have accepted the premise of man's domination over nature and now we are learning the unintended or unheeded consequences of that domination. We must not forget that we are all interconnected in the web of life.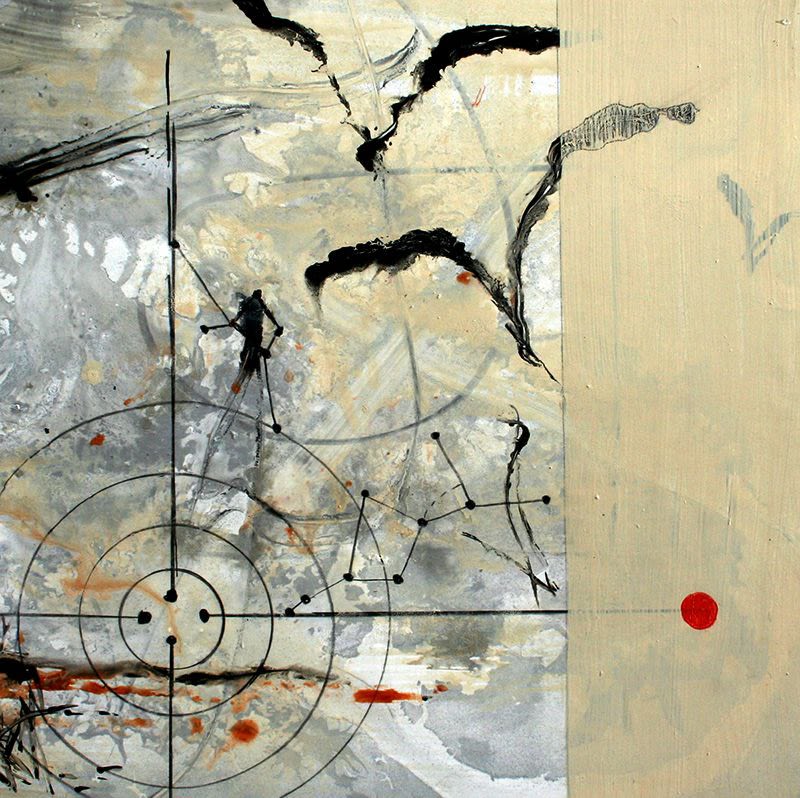 "Haiku Gulf #16"
Explore more of Allison Stewart's work here.