Every week, we'll be sitting down with one of our gallery artists to discuss their work, process, inspiration, and stories. This week we're speaking with Luke Achterberg.
"Astir"
Luke Achterberg's steel formations adorned with automotive paint blur the line between fine art and street art. Drawing inspiration from hot rods, graffiti, and the urban experience, his work explores the relationship between Americana and the art world, the industrial and the handmade. The sculptural language is composed of finding the equilibrium of form, surface, and vibrant color to create a style Achterberg calls "SuperSleek." He wrote us from his studio in Kentucky to discuss how adrenaline influences his work, translating a technical background into his artistic process, and bridging the harmful divide between street culture and academia.
What are your earliest memories relating to art?
When I was in elementary school, I was always getting in trouble for drawing cartoon characters during math class. I was making up characters for a game board inspired by the Mario Brothers, and the teacher would routinely take them and dispose of them during the class. I guess that was an early indicator that I was more interested in art than any other discipline. In high school, I took a lot of 3D art classes, and I even won a Gold Key Scholastic Award and had a small wire sculpture displayed in the Milwaukee Art Museum, but I didn't accept art as a career path until my sophomore year of undergrad.
What influences your work?
I've always been an adrenaline junkie. I love snowboarding, skateboarding, mountain biking, graffiti tagging and writing, skydiving, and driving fast and loud cars. Going to car shows with my uncles was always a thrill, seeing all the flashy rides, the customs. Then I got my own '52 Ford rat rod pickup and a '65 Chevy C10 to put together in high school (which I sold for college tuition). Hanging with friends, flying through the streets on skateboards with a backpack full of paint cans was exhilarating. Being 16,000 feet above sea level and dropping off a cornice into a bowl of deep powdery snow was a blast. So, for me, it's all about excitement, and I make work that excites me. All of these experiences manifest themselves, sometimes subtly, in the work.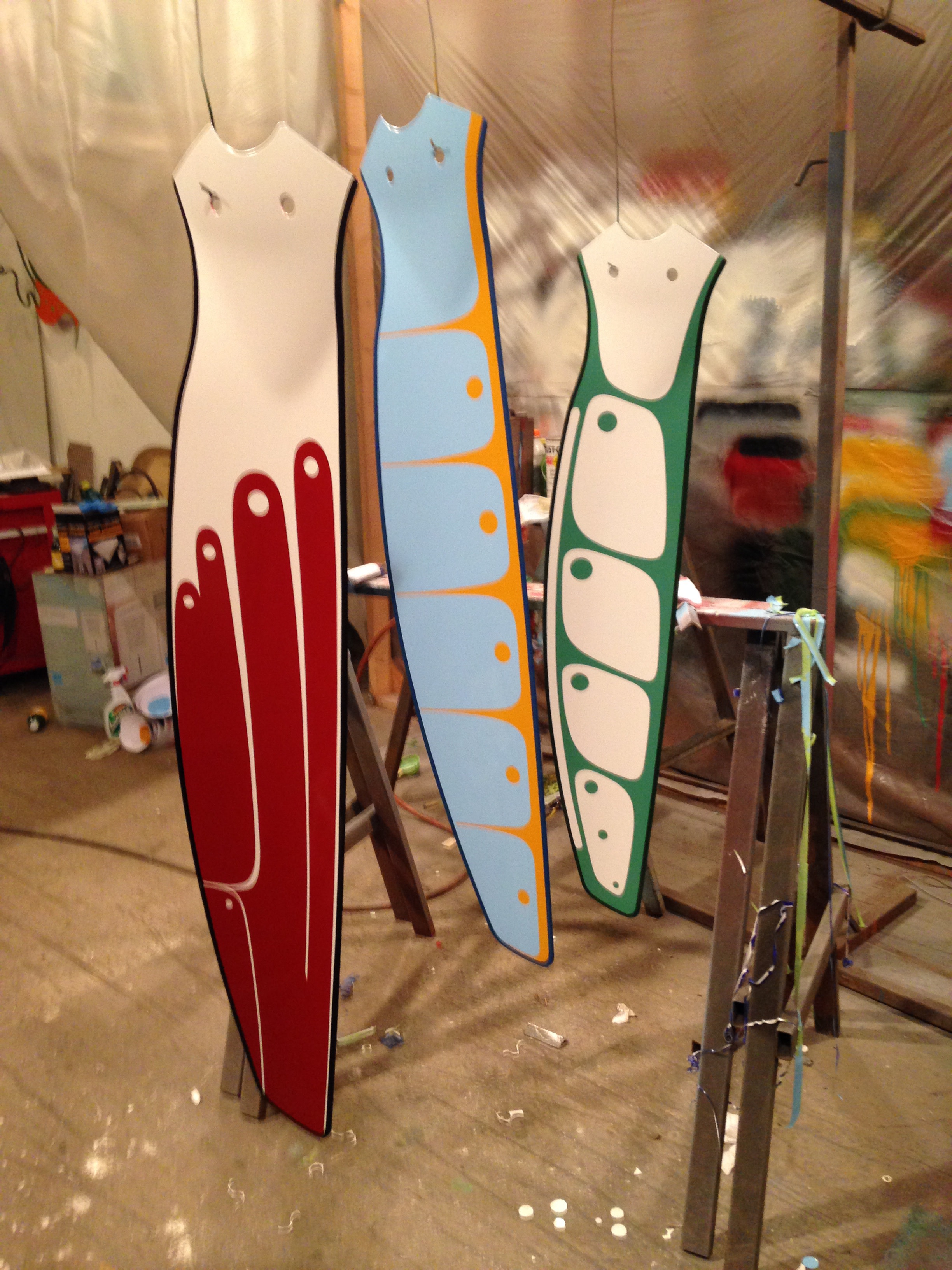 Photo courtesy of the artist
Could you elaborate a bit on how your work blurs the line between street art and fine art, and why you're interested in exploring that line?
The work of a "fine artist" was written into the academic system over a hundred years ago, and while I value the amount of intellectual growth I experienced and the literature and ideas I was exposed to through my academic pursuits, everything that inspires my work happens outside of the academic sphere. But what's considered academic is always shifting. Style writing was once an academic pursuit in many cultures, but in the past thirty years graffiti writers aren't seen as academic, and the vast multicultural heritage that the style of letter forms has evolved from gets completely ignored.
While the education gap has significantly narrowed between elitist types and the middle and working class, there is still a great divide. I will never forget how my one uncle stopped talking to me at family gatherings when I went to college. He has his GED, and it was like I had moved into a different class, like we couldn't relate anymore. (Even though he can lay down some of the most insane paint jobs on an automobile or motorcycle and, to me, that's art.) I think that's ridiculous. Ever since art first started happening, it was meant to relate our human experience to one another. If a work is devoid of value to the human experience I believe it's worthless. And so I pursue work that relates as much to the GED as it does the PHD.
Photo courtesy of the artist
What's your process like?
A sculpture always manifests in a sketch first. Sometimes I'll be inspired by a car show, an art show, looking at letters in all different languages, seeing snowboard or skateboard lines, or listening to music. Sometimes it'll be free association drawing in silence. If it's destined for the wall, I'll draw it in actual size on my 8x4 foot metal table and start bending, cutting, and shaping the metal. If it wants to free stand, I usually make a model out of wire and clay first and work off of that to make it the size I want. Whether it's for the wall or freestanding, when fabrication is complete I get into paint schemes using auto techniques. I'll apply multiple coats with an air-atomized spray gun and do a lot of masking off between color coats. When the final coat of paint is applied, it's like Christmas morning. I tear off all the tape and have this jovial moment when the final work is revealed.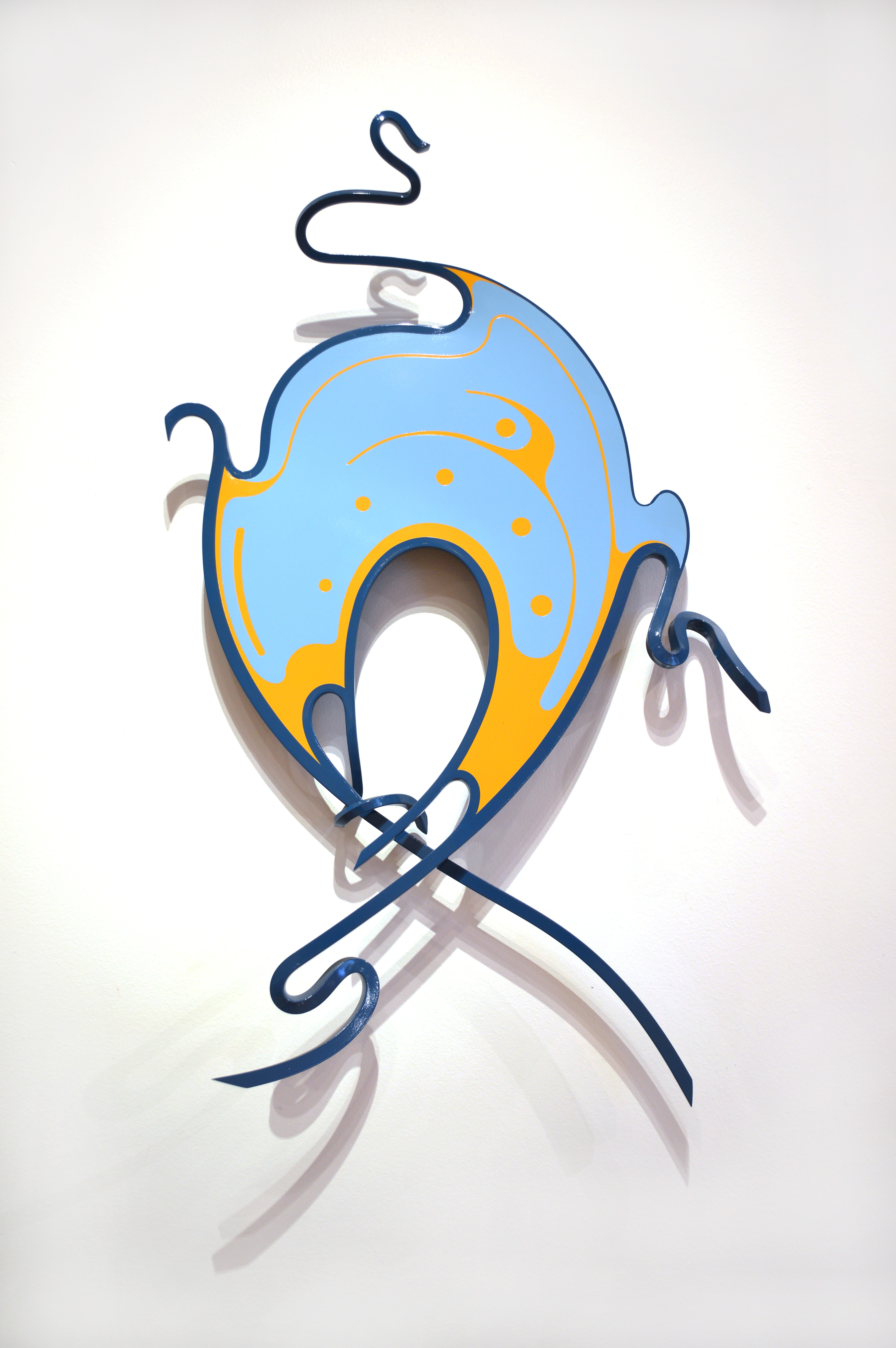 "I Digress"
How do you define "Supersleek"?
Supersleek is a feeling. It has fluidity, its own rhythm. It relates to the seamless line of a snowboarder while transitioning down a slope. (I still ride up the chair lift and look for the line that I carved into the mountain on the way down.) It's the smooth transition of a truck fender into a chrome grill. It's the generations of writers who spawned word character into calligraphy that produced style writing. It's a sense of elation when things come together in perfect harmony.
How has your work been evolving lately?
Lately, my work has been venturing down a few avenues. Recent freestanding pieces have become more emaciated and reflective of the letter "I," which probably has something to do with the selflessness of fatherhood and the struggle to maintain the "I" of my own original identity. Some pedestal pieces and wall pieces have become more three-dimensional in the surface, essentially creating a topographical variation in the surface (a result of looking at maps of mountains). This is something I want to experiment with on a larger scale using bits of exposed polished stainless steel married into a paint surface. Gotta love that chrome. I've also been working with fragmentation. I'll have multiple inter-relating pieces with an implied line to relate to each other and make up a whole.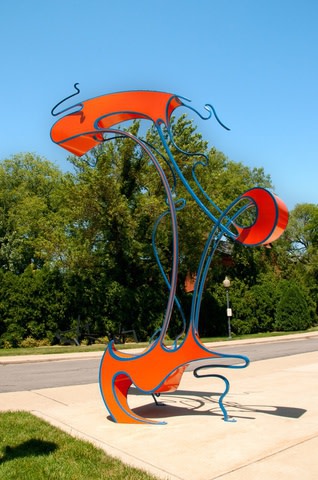 "Calibration"
Explore more of Luke Achterberg's work here.