Every week, we'll be sitting down with one of our gallery artists to discuss their work, process, inspiration, and stories. This week we're speaking with Kim Uchiyama.
Kim Uchiyama's minimalist paintings explore the emotional possibilities of color. Often drawing inspiration from the landscape, both in its physical qualities and its intangible senses, she currently primarily works with bands of color, exploring their infinite possibilities to convey mood and the essence of place. Her watercolors have a light rhythmic quality to them, while her oil paintings pack a more solid punch. We sat down in her studio in New York to discuss how she arrived at minimalism, the benefits of working slowly, and the unexpected influence of archeology in her work.
What were your earliest memories related to art?
I grew up in Des Moines, Iowa, which was very flat farmland for the most part, and they had one really wonderful museum in the town of Des Moines - and at that time in the state of Iowa - called the Des Moines Art Center. I remember seeing works by the painters of the New York School there. They had a De Kooning, one of the women on a bicycle. They had a wonderful Rothko and a wonderful Pollock. I looked at those paintings when I was quite young, I was probably about 7 or 8 when I first visited the museum. I was really taken by the scale of them and of the expression that I found in those paintings. It was unlike really any other painting I had seen before. I'd always grown up drawing from the earliest age, but I'd never seen anything like these paintings. So, that was one thing. Another thing was when the Des Moines Art Center had a talk on prehistoric painting. There was a program on the paintings of the Lascaux Cave. I was so astounded at the kinds of images that I saw. They were so sophisticated; horses and bison that were just drawn with beautiful linear aspects and expression. So, I got very interested in archeology also at that time, I think because of how the caves were discovered. I thought that was so fascinating. So both of those things have been real influences in my life. I eventually came to New York via some circuitous routes at the age of 21 and found myself studying at the New York Studio School, where they had a great focus on the painters of the New York School. In fact many of them were still teaching there when I came.
Were you always doing similar kind of work? Or what was the evolution like towards what you're working on now?
No, it's varied greatly in the past. It took me a long time to try and find my way to my current body of work. I started off in college doing drawing and painting courses. I worked from the figure and still life; it was traditional training in a way. You stood in front of the figure and you tried to draw it in the way that it appeared. I did that for some years until I went to New York and studied at the Studio School. I always wondered really where I could go with it. I felt like I had a certain talent for drawing representationally, but I didn't really know where that was going to go. I was looking for something larger, more universal. I found that in studying with Nicolas Carone, who was one of the New York School painters, a contemporary of Pollock and De Kooning. He had studied with Hans Hoffman, who had a whole way of teaching abstraction that he had developed, this idea of plastic space and of push and pull and thinking about color and form, and how they structure the painting itself. He would have us draw from the figure but, instead of the figure itself, we would draw the space surrounding the figure, the planes of space that actually contained the volume of the figure, and it was an entirely different way of thinking than I had been working with before. I became very fascinated with this idea, it was a very mysterious idea to me. I failed miserably for many years. But I ended up doing drawings within that frame of thinking where I'd study how the light that hits objects in a certain way and how that creates the volume of the space that they occupy.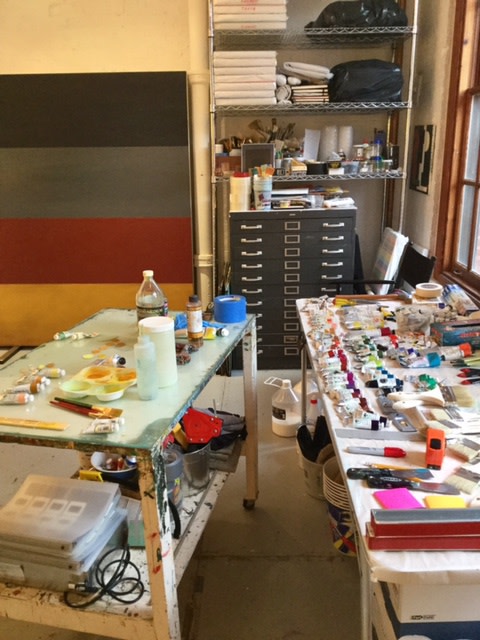 I've continued to work with those ideas in some way up until now, although I've gone through various stages looking for this more universal idea that I was mentioning earlier. I went through a period of working on landscape paintings but they were very simplified. I was always very interested in the strata of earth and sky and how those weights created the painting itself. So even when I was working in a representational mode after school I found myself always leaning towards that kind of simplification, trying to accomplish things with the least means possible. I wasn't at all interested in minimalism at the time, but I think that through the process of wanting to get at the essence of something I've kind of found my own way to that mode of thinking.
Was working with those very simplified landscapes how you came to be drawn to working with stripes?
Yes, it was initially I think, though it was a little early for me to go from that directly to what I'm doing now with the bands of color. In between there were about 8 or 10 years of gestural abstraction where I was trying to understand on a large scale painting with a sense of the body, a sense of movement, and also pushing color in a way that I hadn't pushed it in the past. I'd worked in a more tonal way. But at some point it filtered back. I've found this happens a lot over the course of a working artist's life, that you revisit your old ideas. Somehow you look at something after many years and you see something that you didn't see at the time. So that interest in the weight of the landscape, these layers, this strata of earth, sky, and water, and the simplification of those things began to again enter my imagination, this time with the use of heightened color.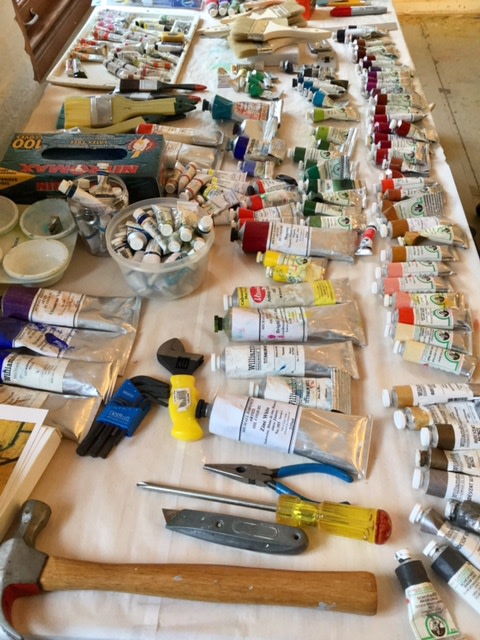 Could you talk a little bit about your relationship with color?
You know, I appreciate people like Albers who approach color very theoretically and systematically, but my own sensibility toward color, my own feeling towards it and its use is very different. I tend to approach it from an emotional standpoint. To me it's a significant carrier of emotion. When I use it i'm always trying to find its expression and its expression in relation to the other colors I'm using, so that they make a moment of feeling. I think that's how I would describe it. It's not so much based in how they react to one another or affect us scientifically. The relational aspects of the color I like is more intuitive for me than that.
Over the course of the past few years, I've noticed a transition from using vivid colors to darker colors. Was that a conscious development? Do you know what might've been the influence for that?
I think the move towards a more somber palette started with a trip I took to Sicily a couple of years ago, and it was inspired by how I experienced the landscape there. It's very ancient land. It's scattered with various Greek temples and the way they sit in the landscape, the way you can drive up to and around them, how they suddenly reveal themselves, and the scale of it all was very impressive and it was also very weighted. I could feel it weighted with a sense of history, maybe because of my interest in archeology. It was so exciting to me to walk on the land and think of the different eras that had occurred before I was there. So that somberness came from a sense of that historical weight maybe, because they were places where battles had taken place, where there were sieges. Even in present day, the tone of the country itself had a kind of melancholy to it, a really beautiful melancholy to it, I think. It got into what I was trying to do.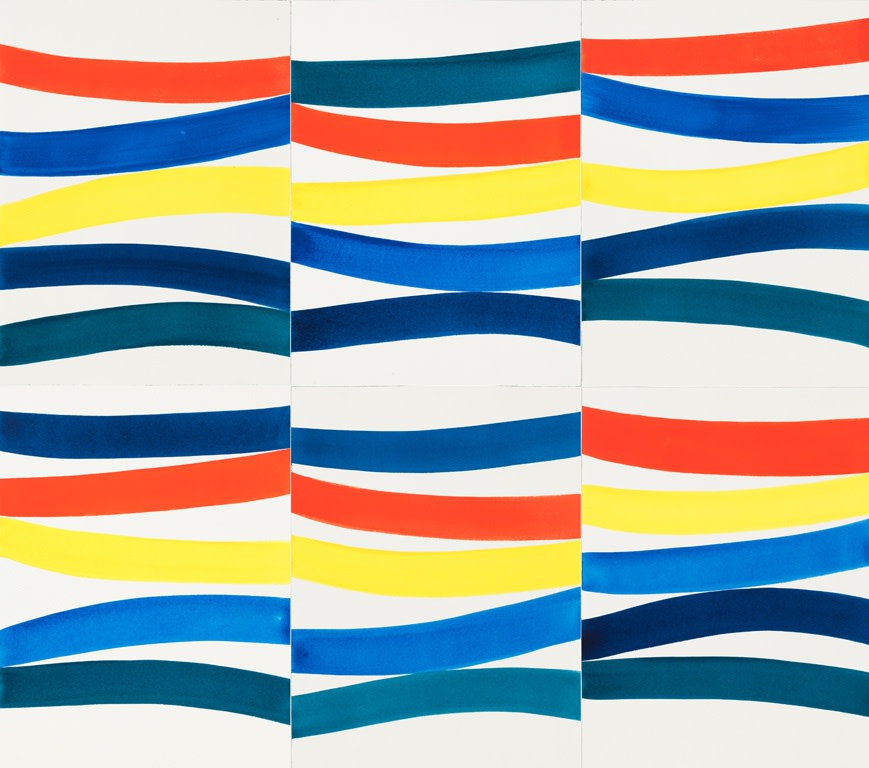 "Path"
Were the watercolors that we have at the gallery also inspired by the same trip to Italy? Or was that a different trip?
It's a different trip. That was to Southern Italy, Puglia, which is similar in some ways but quite different in others. I was in a seaside town called Otranto. I had never been to Southern Italy at that point, I had only been to the North, and I was really struck by the quality of the light there. It was very harsh, and very hot and very dramatic, with almost heat waves in the air. I haven't been to the Middle East, but it was like how I imagined it would be there. So I tried to capture some of that heat in that series through using really bright colors, mostly primary colors.
You mentioned a little bit about how you found your way to minimalism earlier. Could you elaborate on what draws you to it, or what you find satisfying about working through it?
I think at this stage, working in a minimal format is giving me the opportunity to explore the drawing in a closer range, and I think also to really intimately explore the emotional aspects of color that are attracting me right now. Minimalism itself has become more of interest to me because of my own interest in reducing and getting to essentials, but not all minimalist paintings are attractive to me. It really depends. The fact that something is minimal doesn't necessarily mean that I'm going to find meaning in it. I think I've arrived at its doorstep kind of in my own convoluted process.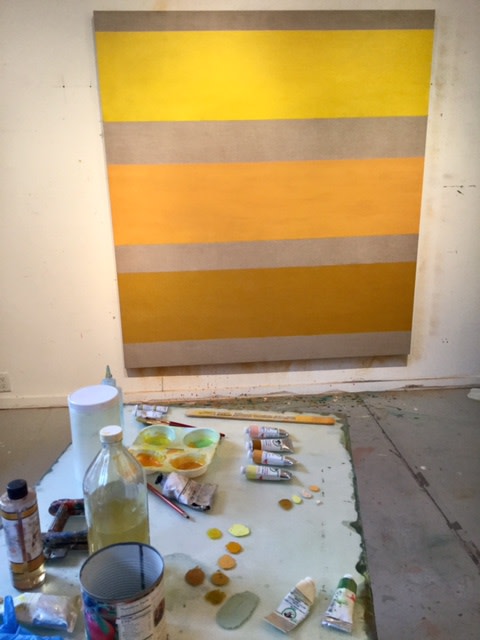 What's your process like?
I tend to work in series. I find that it's helpful to work from one thing to the next and maybe work on 6-8 pieces at a time. I'll start by choosing a size to work in. Then, I spend a great deal of time looking at the blank canvas. I need to see a color first to figure out what needs to happen. I see it in my head and that in turn determines the size of the color form that I need to paint. I really try and wait and see until I can literally envision it on the canvas. Then I mix the color and then I apply it. From there, looking at that tells me the next step. Usually, again, it's a color that appears in my mind to interact with this color and I can go from there. It's a slow way of working and I can often work on things over a few years. I'll put things away for a time, I'll bring them out again. When I revisit them later I'll often see what has to happen.
Do you have any other influences or inspirations that we haven't touched on already?
Yes, I would say one person I haven't mentioned is Georgio Morandi. The intimacy of those works I think has really driven my urge to paint over the years, in whatever phase I was in. That was one of my very early interests with painting; his still lives and the development of his work from a kind of metaphysical surreal depiction of objects to an internal deep resonant interaction with his own objects and space in his studio. I thought that development was really fascinating, slow, a lifetime of work. It interested me a great deal.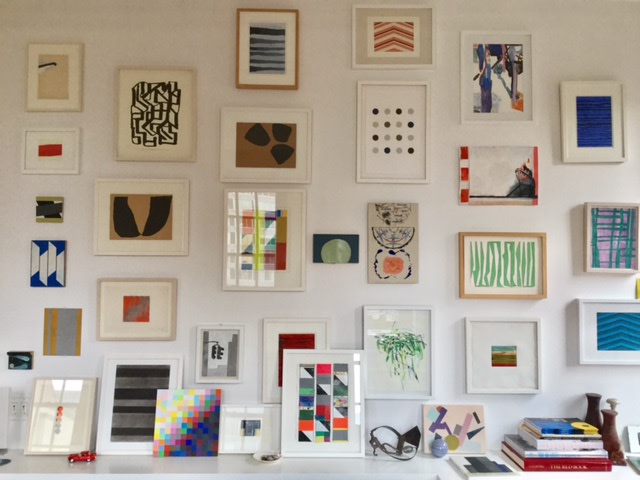 Where do you see your work going from here?
That's really hard to answer because I don't think you can know. I think painting is one of those things where what you're doing now takes you to the next thing you do, and then that suggests the next thing. It's never quite conscious. One thing that I've noticed is I've been allowing there to be more of a visible hand within the bands of color, and I've been experimenting with allowing the surface itself to be part of the painting. Lately i've been working on linen, and I like having that texture, and seeing how different colors and shades bring out different qualities in the linen. But, I don't really know right now what the next body of work will be. All I know is what I'm working on now will inevitably let me know where I should be moving.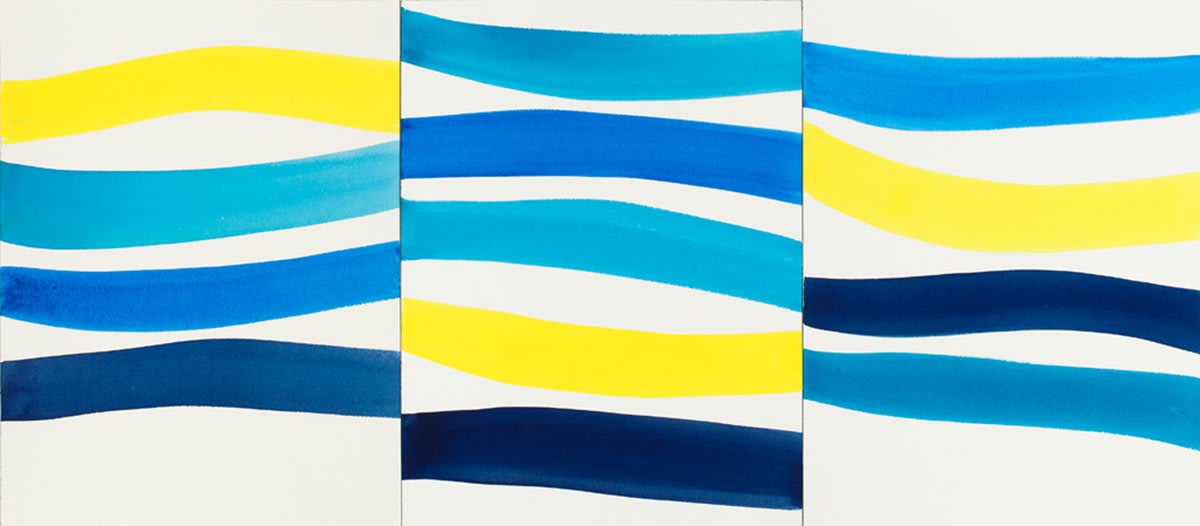 "Counterpoint 2"
Explore more of Kim Uchiyama's work here.